Perhaps one day in the distant future, when old folks laugh and reminisce about rotary phones, kids will think they're talking about Rotel, the "Mechanical Mobile" a kinetic new concept in cell phone charging by Mikhail Stawsky.
Nervously awaiting that important phone call? Just spin this phone around your finger; your phone will be charged and ready to go when and if that call arrives. (Provided you don't wind up flinging it into the path of oncoming traffic, or out an open window.) Or, choose the crank model (not pictured), which accomplishes the same thing with a special, twistable end-piece you can crank to your heart's content. Both will leave your phone charged and ready to accept incoming calls.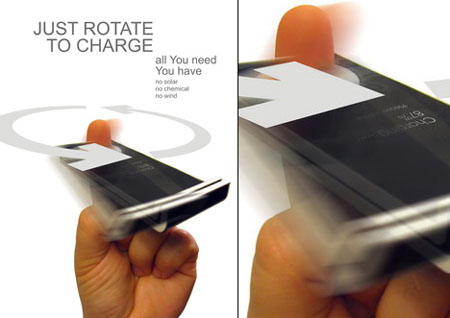 Although there are a number of new products and concepts like music pants that make use of kinetic energy, this may be the first with the potential to make use of the energy normally expended by doodling or foot-tapping. Aside from its novel charging method, the Rotel Mechanical Mobile design looks very much like a number of phones currently on the market.
Mechanical Mobile