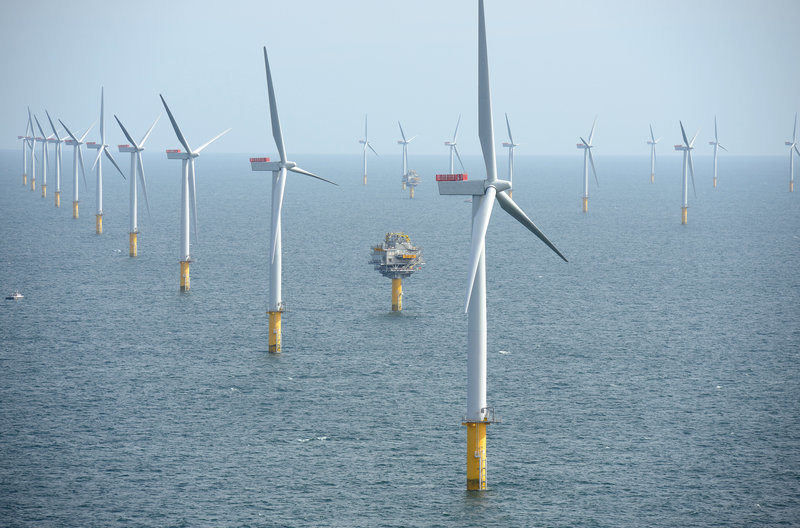 A new proposal by Canadian renewable energy company Beothuk Energy would see a new 1GW wind farm built 20km off the blustery Nova Scotia coast.
The electricity generated by the offshore project would be exported to the United States via the Can-Am link, a proposed undersea transmission cable which would make landfall near Boston, Massachusetts.
To facilitate construction of the $4 billion (CAD) wind farm and export of the generated energy to New England, Beothuk Energy will be working in concert with leaders in finance, construction, and offshore wind energy, including Jacob Capital Management, Siemens Offshore Wind, Talon Energy and Maderra Engineering.
Before construction can begin in early 2016, Beothuk will consult with Nova Scotia stakeholders, including First Nations communities and local fisheries. They will also hear from environmental groups, and towns and cities near the proposed sites of the wind farm and the new manufacturing facilities. Minimizing environmental and economic impact on the local community is essential to moving the project forward.
Atlantic Canada: Ideal Territory For Wind Power
The Nova Scotia wind farm would be Beothuk Energy's second offshore wind farm in Atlantic Canada. In 2013, they announced plans to build and operate a 180 Megawatt wind farm in St. George's Bay, off the Newfoundland coast. The estimated $400 million (CAD) cost of the project is backed entirely by private investors and is intended to prove that the area is ideal for offshore wind energy production.
Far from international shipping lanes, commonly used commercial fishing grounds, and bird migration routes, the George's Bay site was chosen for its reliable winds and favorable ocean floor topography: the bay's depth averages approximately fifty meters, which will facilitate installation and maintenance of the farm's thirty turbines.
Jobs and Green Progress
Kirby Mercer, President and CEO of Beothuk, hopes that through the construction of offshore wind farms, they are "creating a new energy sector in the Atlantic provinces that will have an immense beneficial socioeconomic effect with thousands of new, highly skilled jobs."
The company is headquartered in Newfoundland and Labrador's provincial capital of St. John's, and they plan to source goods and services locally whenever possible. In addition, up to 600 new local jobs will be created with the St. George's Bay project, many of them at Beothuk's new manufacturing and staging facility in Corner Brook.
Besides supporting local Canadian jobs, the 40-square-kilometer wind farm will also support the goals of the Climate Change Program established by Canada's newly-elected Trudeau government. Wind power is also a key component in meeting the guidelines of the recent UN Paris Accord, and the Nova Scotia government's Marine Renewable Energy Strategy.
North American offshore wind power lags behind that of Europe, where 69 offshore wind farms were in operation at the end of 2013. The United States Department of Energy estimates that "more than 4,000 gigawatts (GW) could be accessed in state and federal waters along the coasts of the United States and the Great Lakes," which means that the untapped potential for offshore wind power generation is immense. We'd do well to set aside the offshore oil-drilling rigs, and build more turbines to take advantage of the ocean winds to make clean renewable energy.
Photo credit: Harald Pettersen/Statoil via Flickr under CC license