Is somebody finally going to plug in to the giant socket at Wave Hub? As much as we'd love to see it, we'll believe it when they do!
Wave Hub is the marine energy test platform 180 feet under water in the seabed 10 miles off the Cornwall coast and connected to the shore by a subsea cable. With four berths and a capacity of 30 megawatts, it's a potentially big deal, an alternative to the heavily used European Marine Energy Centre in Orkney. Although it was established in 2010 and despite suggestions that users were forthcoming, it has yet to be used.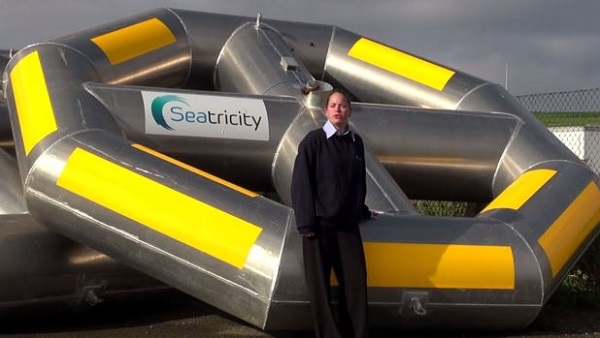 But now, apparently, comes Seatricity.
"Our first generation Oceanus 1 device has undergone extensive and successful sea trials in Scotland and we are ready to make the next step to Wave Hub," said the company's managing director, Peter Mitchell, in a Wave Hub announcement. "The technology is scalable so once we complete our testing next year we hope to move quickly to a full array (of 10 MW). Wave Hub gives us the essential grid capacity to do that and we look forward to working with the team in Hayle and the extensive local supply chain in Cornwall."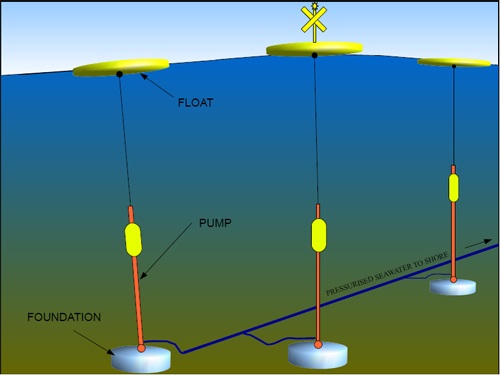 Seatricity, which says it will build its next-gen Oceanus 2 device in Cornwall (to the delight of locals), uses a technology that at least appears to have the benefit of being simple, even elegant.  Floats, or buoys, tethered to a foundation on the the sea floor move up and down with the waves; a pump apparatus between the float and the foundation pressurizes water, which is shot ashore, where it can drive a hydroelectric turbine (and, perhaps, be used in a reverse-osmosis desalination process).
In one sense, this idea is like the CorPower Wave Energy Converter that Iberdrola is backing, except that one converts the bopping and swaying of the buoy into mechanical energy that can then be converted to electricity. Using the wave power to pump pressurized water ashore, meanwhile – with the desal potential – puts Seatricity in company with Carnegie Wave Energy's Ceto tech, unfolding now down in Western Australia.