Maine's governor might be giving wind power a cold shoulder, but that's not slowing down a team at the University of Maine as it aims to deploy the country's first grid-connected floating offshore wind turbine.
This week, the DeepCWind Consortium at the Advanced Structures and Composites Center at the university showed off the platform for a 65-foot-tall, 1:8 scale prototype of the 500-plus-foot-tall 6-megawatt turbines that university researchers, working in a public-private consortium called DeepCwind, aim to build.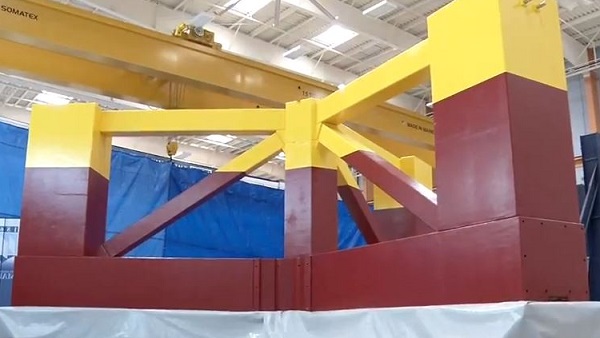 The plan now is to get the prototype, called VolturnUS, into the water early next month – bringing electricity to the grid, marking an offshore wind first for the United States.
Land-based wind power has flourished in the U.S., with 60 gigawatts of capacity online by the end of 2012, second only to China, but the country has yet to get a turbine installed at sea.
Although more costly to develop, many analysts believe offshore has better long-term potential than land-based wind, mainly due to stronger and more consistent winds. The United Kingdom has been leading the charge offshore; it brought 854 MW of offshore wind capacity online in 2012, driving its total to 2,093 MW. No other country has yet to reach 1,000 MW.
Floating turbines are seen as a next logical step in offshore wind development. The turbines being installed in Europe these days are on platforms, nearly always in waters less than 30 meters deep, but deeper water accessible only with floating turbines could offer even better wind as well as fewer stakeholder and aesthetic conflicts.
Beyond this smaller-scale pilot, DeepCWind is planning to build two of the 6-megawatt full-sized turbines in the 2015-17 period. To aid in that effort, this past December the U.S. Department of Energy gave the university a $4 million grant. The DOE also backed an Oregon floating wind project, and other such projects are brewing around the world.
Ultimately, the Maine group aims to have some 80 turbines floating in 4-mile by 8-mile zone 20 miles from the coast. The team figures those turbines will be able to produce electricity at 10 cents per kilowatt-hour without subsidies, meeting a 2020 goal of the DOE.
"VolturnUS will provide a paradigm shift in offshore wind technology," Habib Dagher, director of the Advanced Structures and Composites Center, said at the unveiling ceremony. "It is a floating wind turbine technology that uses for the first time an advanced concrete hull and advanced composites."