Remember last September, when a tidal power device sent energy to the grid in the United States for the first time? Since then, the TidGen device, by Portland, Maine-based Ocean Renewable Power Company, has been in and out of the water a couple of times to address issues, but today it's spinning away, producing clean power.
We talked to ORPC this week after reading through an environmental monitoring report [PDF] the company filed with the Federal Energy Regulatory Commission in March. The report generally finds minimal to no impacts from the initial operation of the 150-kilowatt capacity device, and recommends tweaks to the gathering and reporting of information.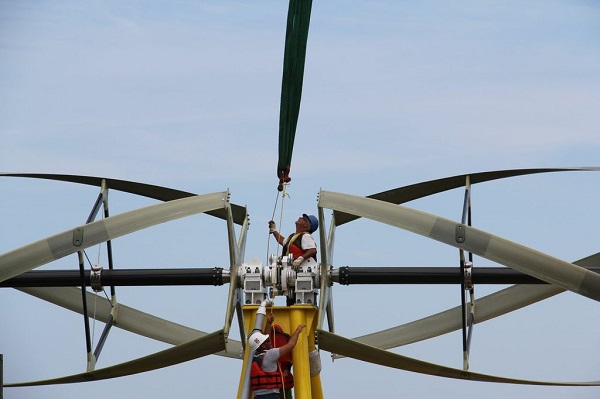 It also gives the first insight into how the device has performed.
ORPC's marketing and commnications manager, Susy Kist, said she couldn't provide power production data, but said the TidGen is "doing really well, we're very pleased."
That doesn't mean there haven't been challenges.
In October, just a few weeks after the device was deployed, a video inspection revealed "what appeared to be loose bolts on one of the TGUs" (the TidGen consists of four turbines strung along in a line), according to the FERC report.
"A more detailed inspection showed that multiple intermediate joint attachments had loose bolts present," the company said. "The TGU was retrieved and brought to shore and all TGU joints inspected. At the intermediate TGU connections, many of the bolts had vibrated loose. These bolts were replaced and methods of preventing vibration loosening of the bolts were implemented. These methods included using a higher torque preload and drilling through the nut and bolt assemble and placing a pin to prevent rotation."
The TGU went back in the water in December and the system was put online and power was generated. But then….
… after operating in boost mode for a short period of time, the electronic brake circuit self-activated, and the TGU stalled. After this event, the brake circuit could not be enabled so the brake would not release. An analysis of the issue points to failure of a resistor in the opto-electric circuit controlling the brake. Since the brake is normally closed, this means that the TGU is locked out.
The unit was pulled out the water on January 22, then deployed a month or so later.
Kist said these minor hiccups are to be expected.
"Our engineers like to say that we're not running an underwater museum," she said. "This is new stuff, and we want to get out in the field with our technology as quckly as possible, get it operating, improve it, fine-tune it, and keep moving forward."
On that count, the company's plan is to install two more 150-kW TidGen device's next year.