Exactly 16,593 megawatt-hours, that's how much electricity flowed from three Puget Sound Energy wind farms in Eastern Washington from midnight Monday to midnight Tuesday to the company's 1.1 million customers on the west side of the Cascade Range.
That was 23.5 percent of the electricity used that day, the company said, and it was a record – another in a spate of wind-power records set in recent weeks across the country.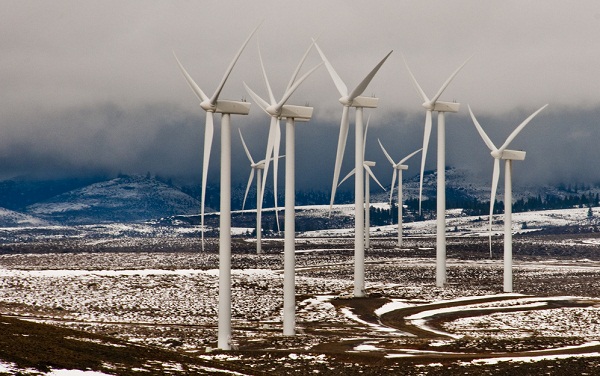 "Wind is now a key resource for providing our customers' with reliable, affordable electricity," David Mills, PSE vice president of energy supply operations, said in a statement. "And when combined with our hydro, natural gas and coal power plants, wind gives us flexible, cost-effective options for serving local homes and businesses."
While wind power rises and falls with the varying wind speed – obviously – Puget Sound said its three wind farms are providing at least some power two-thirds of the time and on average are supplying about 10 percent of the power its customers use.
Meanwhile, Texas was up to record-setting tricks – again – as well.
On Feb. 9 at 7:08 p.m. CST, the state's U.S.-leading wind fleet was pumping out 9,481 megawatts, blowing away the record of 8,667 MW by nearly 10 percent and providing 28 percent of the system load at the time. But the wind actually blew strong throughout the day, and wind power's contribution to load was always at least 25 percent.
Ercot, the Texas grid operator, said a megawatt can power about 200 homes when conditions drive up use to high levels, and around 500 homes otherwise. But enough about Texas, which we knew was a wind superstar. Let's talk about Colorado.
There, Xcel reported that wind generated 16 percent of the 35.9 million MWh sold during the year, a record for the company.
In addition, on Jan. 16, Xcel said, it set a record for peak wind production, with 1,960 MW online for an hour. The company said the recent addition of the 400-MW NextEra Energy Resources Limon Wind Energy Center paved the way for that new record.