One of the arguments often used against policy support for wind power is that it is a "mature technology." The point being, if there's little that can be done to make it more economical, it makes little sense to invest scarce resources in the sector. Some even take the argument a step further and say that continued public support – through mechanisms like the production tax credit – are counterproductive to cost improvement because they allow wind energy developers to prosper without getting better.
And the truth is, according to a U.S. government analysis completed in May 2012 [PDF], the levelized cost of wine energy, after dropping steeply from 1990 to 2003, crept up throughout the second half of the past decade.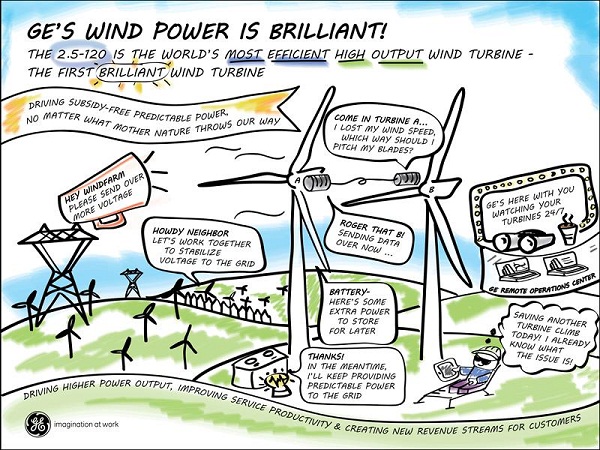 "(B)eginning in about 2003 and continuing through the latter half of the past decade, wind power capital costs increased – driven by rising commodity and raw materials prices, increased labor costs, improved manufacturer profitability, and turbine upscaling – thus pushing wind's LCOE upward in spite of continued performance improvements, despite improvements in technology," the report stated.
But more recent trends suggested LCOE's are dropping again, thanks to costs flattening and performance continuing to improve. The question is, can the trend continue, making onshore wind competitive in what will eventually – and perhaps sooner than the industry likes – be a post-PTC world?
If you listen to GE it can – through the use of its newest turbine. The company just unveiled its 2.5-120 turbine, calling it "the world's most efficient high-output wind turbine," and saying it offered "a 25 percent increase in efficiency and a 15 percent increase in power output compared to GE's current model."
It's the brains that make the thing better, GE said. It even used the word "brilliant" to describe the machine, aimed at pulling maximum power out of lower-wind sites and at integrating energy storage.
"Our 2.5-120 is the first wind turbine that utilizes the Industrial Internet to help manage the intermittency of wind, providing smooth, predictable power to the world regardless of what Mother Nature throws its way," Vic Abate, vice president of GE's renewable energy business, said in a statement. "Analyzing tens of thousands of data points every second, the 2.5-120 integrates energy storage and advanced forecasting algorithms while communicating seamlessly with neighboring turbines, service technicians and customers."
GE said the first prototype of the 2.5-120 will be installed in the Netherlands next month, and given the company's smooth-running PR machine, we'll expect to hear frequent updates as it makes it way into the market.