If pure electric cars are a small market, than those powered by hydrogen fuel cells represent an even smaller niche. As to when these vehicles will actually hit automaker dealer showrooms in any serious numbers is anybody's guess, though we've heard talk of perhaps as early or 2015 or 2016. In the meanwhile though infrastructure still needs to be built to support their roll out, and at least one place in which this is going on is in London.
Work in the United Kingdom's capital recently began on the three year LHNE (London Hydrogen Network Expansion) project, a government-backed initiative co-funded by the Technology Strategy Board to create the UK's first hydrogen powered transport system across London and the South East. The government is working with a public/private consortium on this, led by Air Products.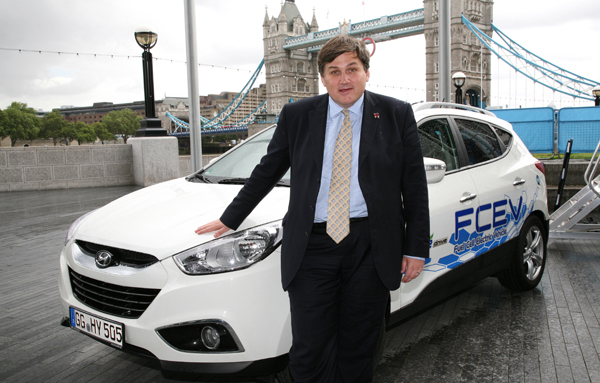 This group will offer up a a series publicly accessible,  fast-fill 700 bar renewable hydrogen fuelling stations that will include upgrading an existing station located near Heathrow Airport and delivering a brand new fuelling station in London. It will also increase accessibility to some other stations already in the area, with the aimed goal being ready "to meet an increasing demand for hydrogen fuel."
700 bar hydrogen fuel cell stations can roughly be seen as the equivalent of Level II or higher electric charging stations for electric cars. They are slowing appearing around the world, including Denmark, the United Kingdom and the United States. It is said these types of stations can fully refill a fuel cell equipped vehicle in less than three minutes while offering a driving range comparable to that of regular gasoline powered automobiles.
As to what will actually be available on the market by the time networks like this are built out is hard to say. We know of at least Toyota, Hyundai and GM working on such vehicles, as well as the one off projects like these London black cabs.