In the furnace-like conditions of the desert Southwest, window glass is asked to withstand wicked temperature extremes, such as the 70 degrees F of an air-conditioned office versus the 115 degree F summer heat on the other side. The designers of UMB Bank's new Scottsdale, Ariz., branch, in effect, gave the building a pair of sunglasses by installing smart windows from Sage Electrochromics that can be tinted automatically to reduce glare and heat during the day.
The key challenge of the LEED Gold-certified UMB branch design was to maintain lighting control in the glassed-in floor-to-ceiling conference room that faces southwest and endures punishing afternoon sun each day. The electrochromic SageGlass used in the conference area contains materials that slowly darken when a small electric charges is sent through the glass. In times of low light, the glass can quickly be returned to full transparency to bring in natural light, ensuring that an even, comfortable temperature is maintained.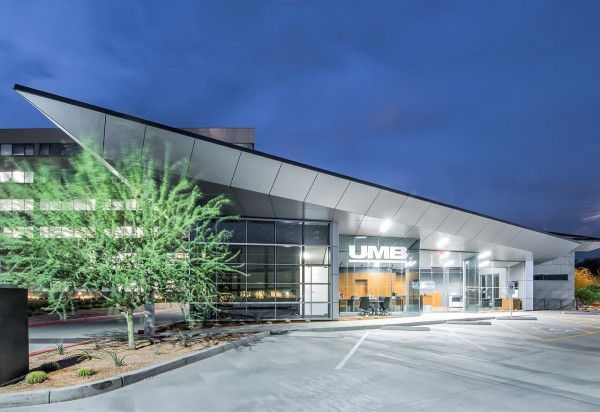 "We were looking for glass that could change from clear to dark to provide control of the sun and optimize daylight," said the branch's architect Kevin Harden, of design firm Gastinger Walker Harden + Bee Triplett Buck. "SageGlass addressed these challenges, enabling us to create a unique, comfortable indoor environment for the benefit of both clients and the employees working inside."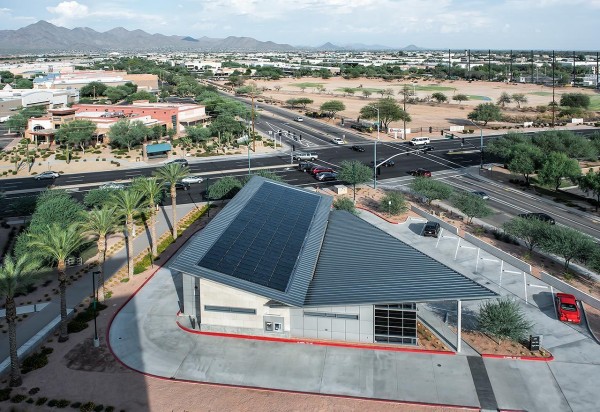 In accordance with strict LEED Gold guidelines, the 4,090-square-foot building includes such energy-saving features as daylighting and lighting controls, a highly efficient HVAC system, reflective roofing and concrete paving, the use of locally sourced recycled materials, the recycling of construction debris, water-saving plumbing fixtures, and low-VOC-emission paints, carpets and sealants.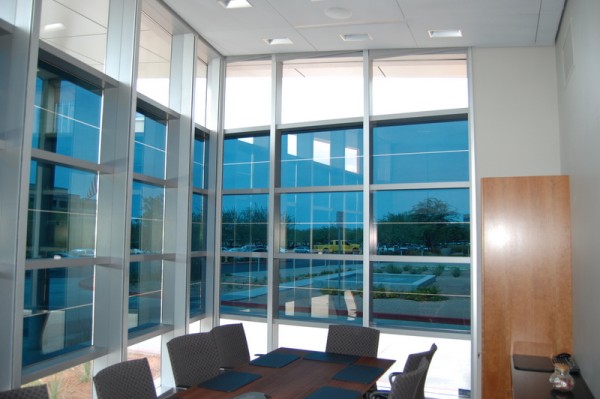 According to the recent report, "Global Smart Glass Market 2012-2017," by the MarketsandMarkets research firm, "smart glass" technologies like those used in SageGlass are expected to grow by a compound annual rate of more than 20 percent over the next five years, achieving a market worth in excess of $3.8 billion.
Besides electrochromic glass that can change color and opacity, the market covered in the study includes thermochromic glass (which changes due to temperature, requiring no electrical charge), suspended particle display and liquid crystal display glass, and even photovoltaic glass that can harvest solar energy.