Wind power kept a lot of lights burning bright in Texas on Christmas Day.
The state set a new record for wind energy production that day, besting its previous record, set in November, which beat the record set in June, which topped the record set in March.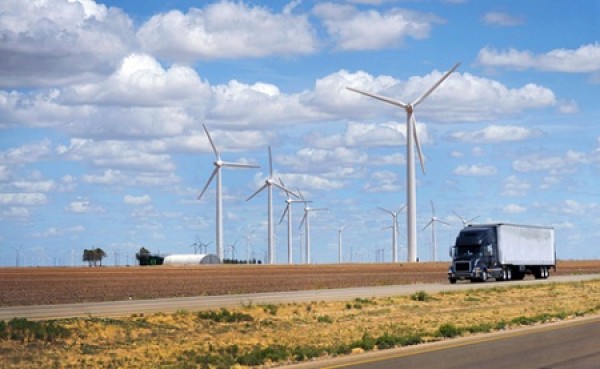 Actually, I might have missed a record-setting day or two in there somewhere, so fast and furious have they come. But you get the idea.
The latest record came at 3:11 p.m. CST on Tuesday, as the state's wind turbines spun out 8,638 megawatts of power, or 25.7 percent of the system load at the time (see this PDF from grid operator ERCOT with all the data). But output remained high well into the night. For 14 hours – from 8 a.m. through 10 p.m. – output was at more than 70 percent of the state's 10,000-plus MW wind capacity. Even at their low point in the day, around 4 a.m., the wind farms together were operating at around 30 percent capacity and providing more than 10 percent of the state's electricity.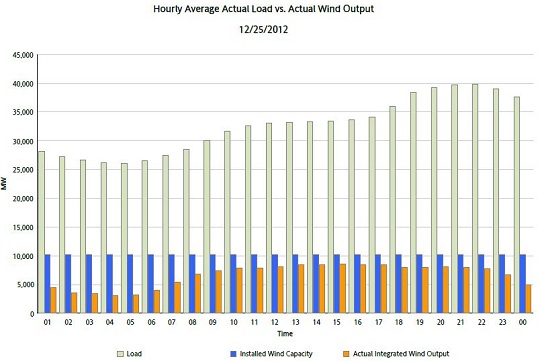 ERCOT put out a press release when the previous mark of 8,521 MW was set in November, but didn't bother to this time. Makes sense, what with new records becoming so commonplace. Industry-watcher North American Windpower spotted this one.
ERCOT says that a single megawatt will power around 200 homes on a hot summer day, when demand throughout the system can nudge toward 70,000 MW, while on more typical days a megawatt will power 500 homes. On Christmas, peak load was 39,847 MW, which came surprisingly late in the day, around 10 p.m. (All those Christmas lights?)
While Texas leads the United States in installed wind capacity at over 10,000 MW, like the output record the capacity is a moving target. New capacity has been coming online at a furious pace all around the country this month, as developers race to get turbines into operation in order to qualify for the expiring wind power production tax credit.