Concentrating photovoltaics and the Obama administration's support for solar manufacturing are getting a big test in San Diego, starting now.
Backed by $25 million in taxpayer money (and around five times that amount from private investors), Soitec on Wednesday officially opened a 176,000-square-foot factory that at full scale will be able to pump out 280 megawatts of solar modules a year. The U.S. Department of Energy called it the world's largest concentrating photovoltaic manufacturing plant.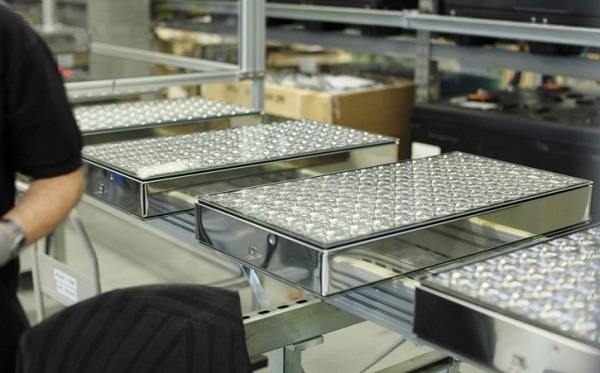 This comes at a tumultuous time in the solar manufacturing industy, and perhaps especially so for concentrating photovoltaics. In the past several months, CPV manufacturer Amonix shuttered its Las Vegas plant, GreenVolts said it was suspending operations after losing the backing of ABB and SolFocus did big-time layoffs and said it was looking for a buyer.
And yet hope springs eternal for CPV, a form of solar where lenses or mirrors are used to concentrate light onto high-efficiency PV cells. (This is a different animal from concentrated solar, where light is focused on a receiver to heat water or other fluids, ultimately to drive a turbine to produce electricity.) In September, Semprius opened a plant in North Carolina and in San Diego, France-based Soitec believes it has a winning product and a state of the art factory – in addition to a nice backlog of module commitments, thanks in large part to San Diego Gas & Electric.
Soitec said in its plant dedication announcement that California regulators had approved 300 MW of power-purchase agreements "that are expected to use Soitec's Concentrix technology."
Soitec's CPV modules use Fresnel lenses to concentrate sunlight 500 times and focus it onto small, highly efficient multi-junction solar cells. The modules are mounted on dual axis trackers and claim efficiency around 30 percent, double or more what the big utility-scale PV developer First Solar delivers with its thin-film CdTe modules. Although more costly upfront, Soitec claims that "this leading efficiency is making CPV technology the most cost-efficient solution for high-volume power generation in regions with high direct normal irradiation."
The company said that at full capacity, the San Diego plant would create 450 jobs, a total that includes workers for the joint venture Reflexite Soitec Optical Technology. "This new company operates a manufacturing operation within the facility developing and manufacturing leading-edge silicone-on-glass (SOG) Fresnel lens plates used in Soitec's CPV modules," Soitec said.
The plant was backed through a program in the DOE's SunShot Initiative called SUNPATH, for "Scaling Up Nascent PV At Home." In a post on the DOE website Wednesday, program manager Minh Le called Soitec a "strong example of the type of company" the program is backing in its aim "to strengthen innovative domestic manufacturing and speed the transition from initial ramp-up to high-volume production."