Israel-based wave power designer and manufacturer Eco Wave Power (EWP) has completed the first open water phase of testing for its new wave energy device. The company said it successfully installed a medium-scale wave energy power plant in the Black Sea during April.
The latest phase of testing follows on from the initial lab-based testing of the device at the Institute of Hydromechanics in Kiev, Ukraine, at the end of last year.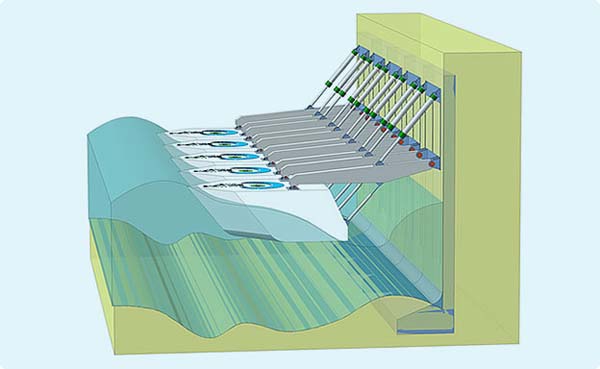 During the Black Sea trial EWP examined the characteristics of two different floater shapes, the "Wave Clapper" and the "Power Wing", as well as measuring of the energy output of the devices under different wave heights and frequencies. The company also looked at the influence of side waves on the floaters, examined the effect of putting floaters in close proximity to each other, and tested the floaters' storm-protection mechanisms.
According to EWP, the energy output tests showed that two of its medium-scale wave energy devices would produce enough electricity to power up to 10 households.
EWP's business model focuses on using low-cost materials with low maintenance costs and short maintenance periods. EWP insists that when the product is ready to go to the market its construction and production prices "will be cheaper than any other renewable or traditional energy generation system."
According to EWP, it has already secured funding for three ocean energy pilot projects, including a full-size commercial scale power plant capable of supplying electricity to at least 1,000 households.
The next phase, the company said, will be to move the testing to a different coastal structure to demonstrate to potential customers that the wave energy generation system can work in any ocean environment. Following on from this EWP plans to build its first commercial-scale wave power plant.
EWP is not the only Israeli company making bold claims that their wave power devices can be produced cheaper than other renewables or indeed than conventional fuels like coal and gas.
Their countrymen at SDE Energy make the same claim for their wave-powered hydraulic generator. The 1-kilowatt (kW) generator consists of a single float and is made at the SDE factory in Tel Aviv. The company has also deployed a system in China, financed by the Chinese government.