How much difference is a single vertical-axis wind turbine atop a school in New York City going to make in the quest to free ourselves from the fossil-fuel death grip? Just slightly more than absolutely none at all.
Still, there might be good reason to celebrate the milestone turbine installation at The Town School on Manhattan's Upper East side, which was presided over earlier this week by New York's wind-power-loving mayor, Michael Bloomberg.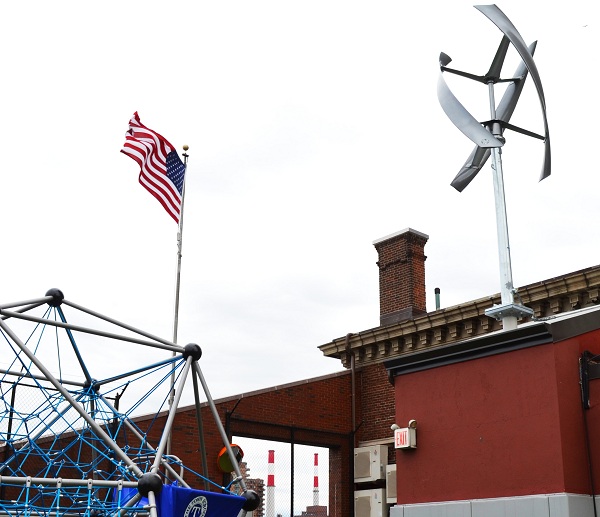 Undeniably, this is cool for the kids at the school. You can imagine a spinning, power-producing wind turbine really helping bring alive the study of energy, sustainability and climate change.
The upper school dean and sustainability coordinator at The Town School said the turbine fit in well with the school's mission "to teach children to meet the needs of the present without compromising those of future generations."
There is, too, a bit of real live power produced by the turbine.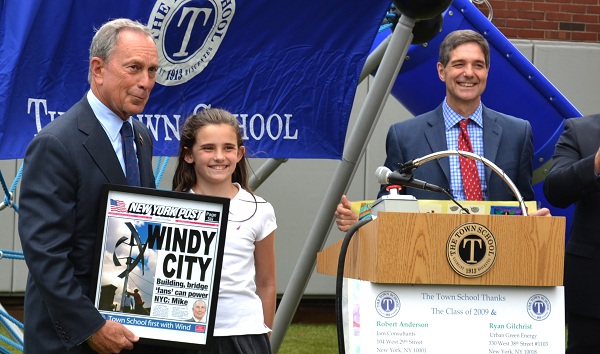 The Urban Green Energy eddyGT wind turbine has a rated capacity of 1000 watts, or 1 kilowatt (kW). That means that if the wind is blowing at 26 mph, the turbine could power, oh, say a dozen classroom computers that use about 80 watts apiece.
Urban Green Energy said that at the more typical average speed of 12 mph, the eddyGT churns out 1,750 kilowatt-hours of power a year – about 15 percent of what an average single-family U.S. home uses. That contribution comes on top of the 6-kW of solar the school installed earlier [PDF].
The even better news about the Town School turbine, however, might be that future projects won't be subjected to the less-enlightened New York City building regulations that it had to endure. According to Urban Green Energy, the turbine, a gift of the school's class of 2009, "took three years to obtain the permits necessary to install the turbine, as the wind turbine was purchased prior to the change in city ordinance that now permits small wind turbine installations in New York City."