The title of world's largest offshore wind power has been reclaimed. SSE announced the commissioning of the 367.2-megawatt (MW) Walney wind farm off the coast of Barrow-in-Furness, beating out the 300-MW Thanet Wind Farm (also in U.K. waters) for the top spot.
Walney actually consists of two separate projects: Walney 1, which was completed in May 2011, and the just-finished Walney 2. The project, which is a joint venture between DONG Energy, SSE and OPW, has actually set a few industry records, including the fastest construction time for an offshore wind farm—five months and 13 days for the Walney 2 portion. In all, the wind farm consists of 102 3.6-MW Siemens turbines, and will generate enough electricity to power 320,000 households annually.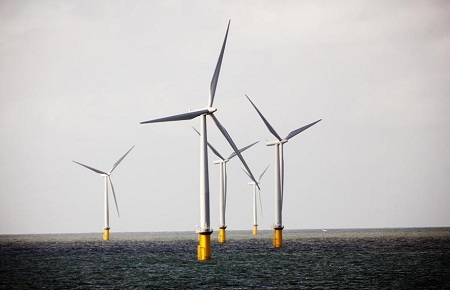 It is also the first offshore wind farm in the U.K. to be financed by institutional investors (PGGM, a pension fund service provider, and Ampere Equity Fund) prior to construction. This is significant because it demonstrates the willingness of institutional investors to participate in offshore wind projects alongside traditional industry investors.
"Britain has a lot to be proud of in our growing offshore wind sector," said the U.K.'s new secretary of state for Energy and Climate Change (DECC), Edward Davey, in a statement. "Our island's tremendous natural resource, our research base and a proud history of engineering make this the number one destination for investment in offshore wind. Walney is the newest, biggest and fastest-built jewel in that crown, providing clean power for hundreds of thousands of households."

Wind power is accounting for an increasing proportion of the U.K.'s energy supply. According to new figures released by the government, the U.K. now has enough wind power to keep the lights on at more than 3.3 million homes. Two U.K. wind power developers have already hit the 1-gigawatt (GW) mark in installed capacity, and the trend shows no sign of slowing.
For its part, DONG Energy is no stranger to offshore wind. The company owns about a third of Europe's offshore wind market. In the U.K. alone, DONG Energy has invested around £3 billion in offshore wind, and has 1 gigawatt (GW) of offshore wind generation in operation or under construction.
Dong also has an even larger offshore wind project in the works: the 400-MW Anhoult wind farm off the coast of Denmark, expected to be completed by the end of 2012. The Danish state-owned company is also working with Danish wind turbine manufacturer Vestas to build a pilot project using a 7-MW wind turbine. That's right—7 MW—stupid big.