Editor's Note: EarthTechling, always looking to bring you innovative cleantech reading, is proud to repost this article courtesy of ecoRI News. Author credit goes to ecoRI's Tim Faulkner.
The East Bay Energy Consortium (EBEC) has competition for developing a proposed wind farm in the town of Tiverton's industrial park.
Andy Shapiro, a former vice chairman of the EBEC, a nine-community regional wind and solar council, is now competing against the public proposal he once represented for the town of Warren. In his latest role, Shapiro serves as the Rhode Island representative for Virginia-based Apex Wind Energy.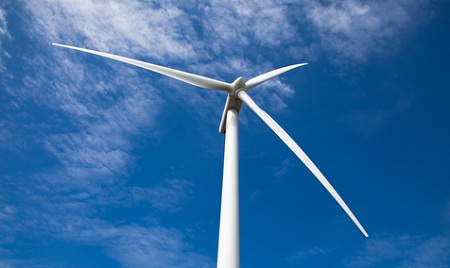 Apex and the EBEC presented alternate plans Jan. 30 at a joint meeting of the Town Council and Planning Board. Both are vying to build an eight- to 10-turbine wind farm in the undeveloped, 177-acre industrial park. Some 27 acres of surrounding land owned by the Water Department and the North Tiverton Fire District is also being considered part of the project.
Both developers presented differing financial payouts to the town. Apex offered estimated annual revenues of $305,000 to $405,000 derived from lease payments and property taxes. The public EBEC option delivers an estimated $366,000 annually. Annual increases — and the eventual maturity of municipal bonds — push the payments to about $1.5 million after 20 years. Annual revenue to each of the nine EBEC member communities starts at $194,733.
Town Council members were assured by both groups that the proposals were rough estimates and starting points for negotiations. Both proposals projected that the turbines could be erected and running by 2014.
Formed in 2009, Apex touted its experience and purchasing power as a nationwide private developer, managing 5,000 megawatts of wind power. Much of its holdings were acquisitions of financially struggling wind projects "that crashed on the rocks after the 2008 meltdown," said Karlis Povisilis, development manager for Apex.
The company's portfolio of wind farms, Povisilis said, has given it a deep knowledge of turbine manufacturers, and experience with financing, power-purchase agreements, permitting and legal work.
EBEC noted that the municipally run consortium gives the town greater say in the planning, development and operation of the business park. It's proposal also includes using land beneath the turbine for a 5-megawatt solar array.
Both EBEC and Apex agreed that the business park was the ideal location for renewable energy, thanks to a strong coastal wind and its closeness to a transmission substation on Fish Road.
"It's arguably the most attractive place to build a wind farm in Rhode Island," Povisilis said.
Town Council member Cecil Leonard agreed that the business park might be suitable for a renewable-energy project. Although it borders Route 24, the heavily wooded parcel has been struggling to attract tenants since it was established in 1988. Tiverton Power Inc., a natural gas electric plant, is the only occupant. Building additinal structures would require a substantial investment in roads and utilities, much of which is hampered by rocky soil and wetlands.
"The topography and geology is one of the things that make a wind farm an attractive alternative," Leonard said.
If approved, the town hopes to develop lots around the turbines for commercial industrial use.
The Town Council plans to consider both options and possibly others while state regulations for siting wind turbines are drafted. EBEC also is waiting for results from a wind measurement tower to determine overal financial viability of the project.
The EBEC, started in 2009, is a first-of-its kind renewable-energy municipal cooperative. The group aims to organize as a state agency to remove financial liability from member communities. It also would allow the EBEC to fund the project by issuing municipal bonds. Each community would apply its 5-megawatt allowance for renewable energy to secure a power-purchase agreement with National Grid.
The EBEC's two cities and seven towns include Barrington, Bristol, East Providence, Little Compton, Middletown, Newport, Portsmouth, Tiverton and Warren.