Editor's Note: A previous version of this story read the conservation site size was 45,000 acres, which was incorrect. It is 18,500 acres instead.
It's no match for BP's planned 419-megawatt (MW) Flat Ridge 2, which will be the largest wind power plant in Kansas. But Enel Green Power's (EGP) Caney River wind farm, with 111 1.8-MW wind turbines southeast of Wichita in Elk County, is now online. With a capacity of 200 MW, the $350-million wind farm is expected to generate enough electricity to power 70,000 homes, and avoid more than 580,000 metric tons of carbon dioxide emissions per year.
The project will also designate $8.5 million in funding to establish environmental restrictions needed to protect tallgrass prairie habitat in Kansas. Tallgrass prairie once covered 170 million acres of North America, but today less than 4 percent remains, mostly in Kansas. The EGP funds will protect over 18,500 acres and restore 14,800 acres of tallgrass prairie habitat, and allow scientist to conduct research on local wind patterns and wildlife.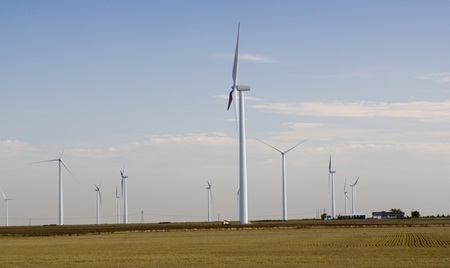 Enel Green Power-North America (EGP-NA) is a subsidiary of the Enel Group, which develops and manages power generation facilities in Europe and the Americas. The company's North American operations are based in Andover, Mass. To date, the company owns over 6,100 MW of installed capacity at 620 facilities around the world. EGP-NA also developed the 250-MW Smoky Hills Wind Farm in Kansas in 2008, which is the largest wind plant in the company's portfolio. The new facility brings the company's total installed capacity in North America to 986 MW.
"We pursue our organic growth in the USA fully in line with our schedule," said Enel Green Power CEO Francesco Starace, in a statement. "Caney River represents a major evidence from Enel Green Power to carry out in a limited amount of time power plants of significant sizes in such an important market."
The Caney River project was developed by EGP's partner, TradeWind Energy. Electricity generated by the facility will be purchased by the Tennessee Valley Authority (TVA) under a 20-year deal.