The Scottish government has recognized that developing the country's marine energy resources is critical to meeting its ambitious target of producing all of its electricity from renewable resources by 2020. The government recently made its biggest commitment to tidal power to date, announcing that it is putting up £18 million (about $29 million) to help develop the country's first commercial wave and tidal power plants. The money is part of a larger £35 million fund created to support the marine and tidal industry over the next three years.
The fund will be used to build infrastructure, develop technology solutions and test and deploy marine energy systems in the Pentland Firth, Orkney Waters and other potentially resource-rich sites around Scotland. The fund will build on the progress already made at Scotland's European Marine Energy Centre (EMEC) in Orkney, where companies such as Kawasaki Heavy Industries and Aquamarine Power are testing tidal energy technologies.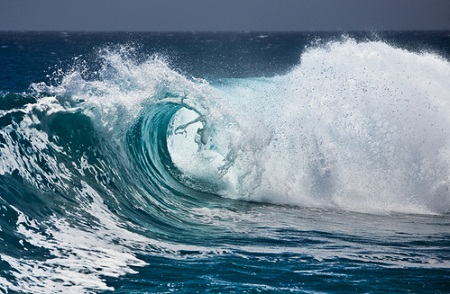 Four Scotland-based tidal projects are also competing for funds available through the European Union's New Entrant Reserve, which will allocate up to €3 billion ($4.13 billion) for innovative renewable energy technologies and carbon capture and storage projects. The results of that program are expected to be announced in October 2012.
According to First Minister Alex Salmoud, one-tenth of Europe's wave power and one-quarter of its tidal power are based in Scottish waters. "We know Scotland's waters are host to awesome forces and that there is enough wave and tidal energy around Scotland to meet our demands for power several times over," he said in a statement. "Scotland can lead the world in marine energy. This fund will play a vital role in helping the industry move us towards that goal, helping them develop their prototype devices into commercially viable arrays."
Become a Green Earthling Deal email subscriber by Friday, Nov. 4, and you could win a $100 Amazon gift card courtesy of EarthTechling!