When U.S. Marines hit the shore, they often do it in a 1600-class landing craft utility (LCU), a diesel-powered beast built in the 1970s that can carry 180 tons of equipment or 400 combat-equipped warriors. But wait: Did we say diesel-powered? That might be changing, at least partly. In the military's latest alternative-fuel test, the Navy said it put a fuel blend half derived from algal oil and half petroleum to work in an LCU out of Joint Expeditionary Base Little Creek on the Virginia coast.
The Navy said the LCU "operated at full load, over a wide range of engine speeds," in order to test if the biofuel blend would provide power similar to the standard diesel, and to gauge performance details such as fuel consumption, exhaust temperatures and engine-room temperatures. On all counts, the Navy said, the green fuel was a winner.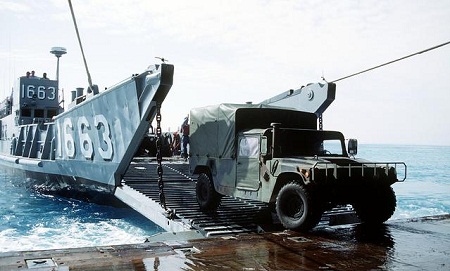 "This demonstration continues the proud tradition of leveraging emerging technology to decrease the energy footprint in our ships and craft," Capt. Chris Mercer, program manager for amphibious warfare, said in a statement. "In 2010, we delivered USS Makin Island (LHD 8), introducing hybrid, gas turbine/electric drive technology with a projected savings of $250 million in fuel costs during the ship's lifecycle."
The Navy also recently tested alternative fuel in a yard patrol boat at the Naval Academy in Annapolis, Md., and said it successfully flew the first unmanned biofuel flight of a MQ-8B Fire Scout Vertical Take-Off and Landing Tactical Unmanned Aerial Vehicle at its base near Patuxent River, Md. The Navy has set a goal of deploying a "Great Green Fleet" powered entirely by alternative fuels by 2016, and of reaching 50 percent alternative energy use overall by 2020.