Got an electricity project – a really big one? The New York State Energy Research and Development Authority (NYSERDA) and the New York Public Service Commission (PSC) have issued a solicitation for large-scale electric generation projects using wind, hydroelectric, biomass or other renewable energy resources. Qualifying projects will be eligible for a slice of $150 million under the state's renewable portfolio standard (RPS).
New York's RPS requires that 29 percent of the state's electricity be generated from renewable resources by 2015. Unlike many other states, which leave RPS compliance up to utilities, funding to help meet New York's RPS is generated through a surcharge on energy consumption, and then doled out based on a state-managed competitive bidding process. This is the second solicitation issued by NYSERDA since the RPS program received funding in 2010. Final awards are expected to be announced in mid-December.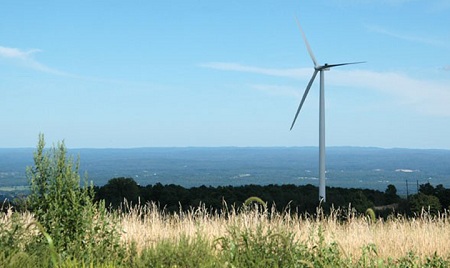 So far, NYSERDA has awarded funding to 51 large-scale renewable electricity generators, including three biomass plants, eight landfill biogas operations, 23 hydroelectric upgrades and 17 wind power plants. These projects are expected to produce 5.3 million megawatt-hours (MWh) of electricity per year – enough to power more than 760,000 homes.
New York's RPS program has been highly successful at attracting investments in clean energy, diversifying the state's resource mix and generating direct economic benefits to the state, the state says.  Wind capacity in the state has increased to nearly 28 times what it was prior to the RPS and in 2010 New York ranked first in the Northeast and eighth nationally in installed wind capacity (at least, so said the NYSERDA; the National Renewewable Energy Laboratory had New York 13th).
Current RPS projects in New York are expected to generate more than $2.1 billion in direct economic benefits in the form of long-term and short-term jobs, property tax payments to local towns, schools and counties, in-state purchases of goods and services, land lease payments to landowners and various other economic benefits over the next 20 years.