Arista Power, which earlier this year reported selling an order of "Mobile Renewable Power Stations" (MRPS) to the FBI, is now touting a line of small wind turbines intended for military use – including one designed specifically to be carried by an individual soldier. Arista said the introduction of its Charger 300 line of turbines "broadens our ability to provide innovative renewable energy-based products and solutions to the military and commercial sectors."
Among the turbines, the Charger 300i [PDF] is said to be man-portable for use "in more rugged environments." It weighs less than 15 pounds and can fit tidily in a "small, suitcase-sized hard- or soft-pack carrying case." According to the company, "typical applications for the Charger 300i would utilize a mast height of 20-30 feet allowing shorter wire lengths between the wind turbine charger and batteries." Power can be generated in winds as low as 7 mph, the company said.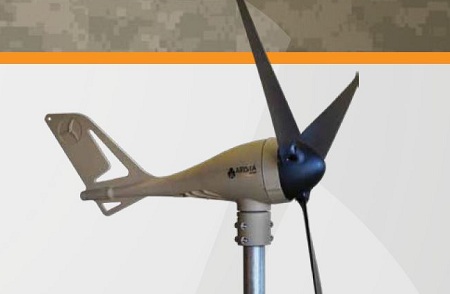 The Arista turbines offer a wind alternative in a category where we've seen solar applications popping up. Virginia-based SkyBuilt Power earlier this year introduced SkyCase, a power storage and management module contained in a "weatherproof, crushproof and dustproof" case, that works with its SkyPAK fold-out crystalline solar arrays. And just recently the Marine Corps trumpeted a new self-contained solar power system from Iris Technologies that fits into a backpack.
Arista Power, by the way, had previously cracked the pages of EarthTechling as WindTamer, maker of the eponymous wind-power turbine that uses a closed housing and a diffuser to allow it to produce power at lower wind speeds. The WindTamer turbine hasn't gone away, but the company name has – in May, it became Arista Power.