The company behind a massive offshore wind-power complex in the Kattegat, the small sea that separates Denmark and Sweden, has landed €240 million ($325 million) in financing from Nordic Investment Bank (NIB).
NIB said the Anholt offshore project, consisting of 111 3.6-megawatt (MW) turbines, "will supply CO2-free power corresponding to the annual power consumption of more than 400,000 Danish households, or 4 percent of Denmark's total power consumption."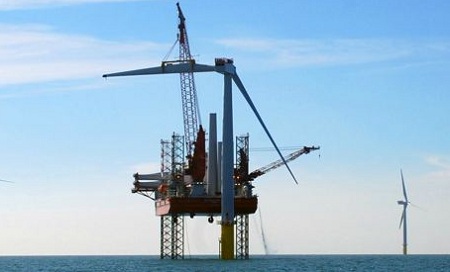 State-owned DONG Energy is behind the Anholt project as part of a big effort to green up its generating portfolio, which has come under criticism. "Today, 85 percent of DONG Energy's heat and power is produced by fossil fuels – mainly coal.," the company says on its website. "Now we have set ourselves a goal: Over the next 30 years we will reduce CO2 emissions per produced kWh to 15 percent of current levels."
Offshore wind is at the center of this transition. "We develop, build and run wind farms and are well on the way to reaching the target of a minimum wind capacity of 3,000 MW in 2020," DONG says. The company lists 13 producing offshore wind-power plants, in Denmark, Great Britain and Poland. The Anholt project will be the biggest offshore wind complex in Denmark, and is expected to be operating by fall 2013.