A Maryland company says it is ready to move from research work to actual development of its renewable energy concept, a wind power idea the likes of which we have not seen before.
Here's the idea from Clean Wind Energy Tower: You put a huge, hollow cylinder out in the desert Southwest. You spray a fine mist of water at the top of the tower. The hot, dry air evaporates the water, cools, gains weight and sinks. Voila, a downdraft. Turbines at the base of the tower take advantage of this downdraft within the hollow cylinder to power generators.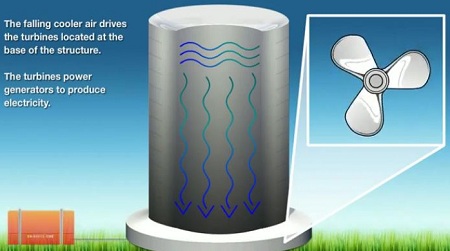 In addition, the company says the "Downdraft Tower" has vertical "wind vanes" the length of the structure that capture and channel wind through a separate system of tunnels to produce additional electricity. "This dual renewable energy source enhances the capability and productivity of the downdraft tower system," the company says on its website.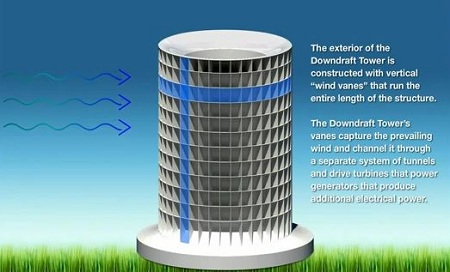 An obvious question is whether pumping water up in order to gain energy from it when it falls is going to be a net energy win. Clean Wind Energy Tower says it will be.  The "Downdraft Tower will generate up to 2,500 megawatts per hour, gross," the company says, "of which approximately one-third will be used to power its operations, leaving up to 1,500 megawatts per hour available for sale to the power grid."
We should point out that the announcement that Clean Wind Energy Tower was looking to develop the product came with a rather ominous-sounding management shake-up, as the company's chief technology officer, chief structural engineer program manager manager all resigned, and Clean Wind Energy Tower said it "anticipates that there may be disputes from former employees."