The U.S. Navy and Marine Corps have begun testing biofuel in the tilt-rotor MV-22 Osprey at the Naval Air Station in Patuxent River, Md. On the craft's first biofuel flight, the Navy said the Osprey flew to an altitude of 25,000 feet on a mixture of standard jet-fuel and biofuel produced from the camelina sativa plant, a nonfood plant that was grown in the United States.
We've seen a good amount of debate surrounding biofuels this year. While the U.S. military is investing millions in biofuels for transportation, one conservative think-tank says those efforts are wasteful, and research suggests ethanol production is contributing to higher food prices. Still, the U.S. Department of Energy (DOE) says biofuels could potentially replace 30 percent of petroleum consumption in the country.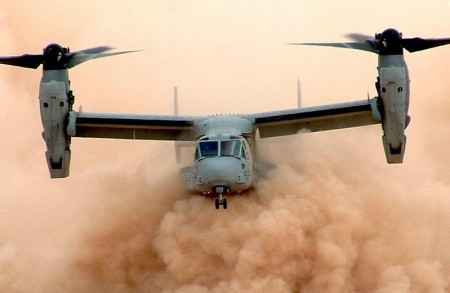 Private airline companies, especially in Europe, have been testing biofuel for commercial flights, so it seems there is still interest in the field for now. We recently noted that fossil fuel algae may be a new area for expansion, although a study from the University of Virginia suggests algae has its own problems to overcome before being a truly green resource.
To see the MV-22 Osprey in action while flying on the biofuel mixture, check out the video below: