Sauer Energy, the latest entrant in the small wind-turbine market, will launch commercial production of its WindCharger vertical-axis wind turbine in November, and is on schedule to begin distribution in early 2012, the company said. The WindCharger prototype debuted in May, at the WindPower 2011 Conference and Exhibition. According to Sauer, the vertical-axis turbine is cheap to manufacture, contains few moving parts and is designed to be installed by a single worker.
The three-blade turbine is manufactured from UV-protected lightweight composite, resin and plastic, and has a life expectancy of about 20 years, the company said. The compact unit is designed to be integrated unobtrusively into existing residential and small commercial buildings. The company also claims that the WindCharger can generate power at wind velocities as low as 5 mph, much lower than a traditional horizontal-blade turbine of similar size – making it appropriate for areas unsuited for large-scale wind farms.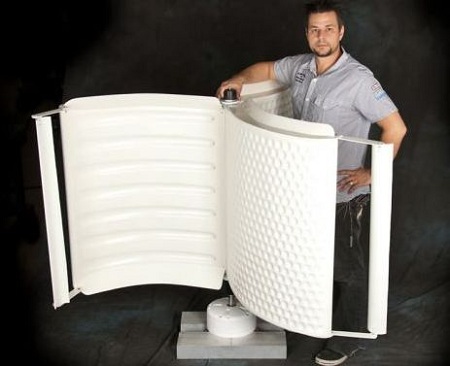 In addition, the vertical-axis turbine can harvest wind energy blowing in any direction. Other benefits of the WindCharger, according to Sauer, include quiet operation and a relatively low impact on bird populations. The technology is also scalable, meaning it can be sized to meet the needs of particular buildings, and is intended to meet the needs of dense, urban areas.
The company hopes that the WindCharger will establish Sauer as a leader in the vertical-axis industry. "We lead best by example, and building sustainable, economic and social progress by helping others will make us a leader in the renewable energy sector," said Dieter Sauer, president and CEO. The WindCharger will be manufactured in the United States and comes with a 10-year warranty, the company said.