In Hull, East Yorkshire, England, the Neptune Proteus NP1000, a tidal power device we first told you about last year, was approved for implementation, developers announced. The device, developed by Neptune Renewable Energy, will become operational in the fall of this year.
The Proteus will use the tidal stream of the Humber, a tidal estuary, to power The Deep, an aquarium and popular tourist attraction. The Deep's managers see the use of tidal power as entirely fitting for a marine-themed place like the aquarium – and Neptune hopes it opens eyes to the possibilities with tidal power in the region.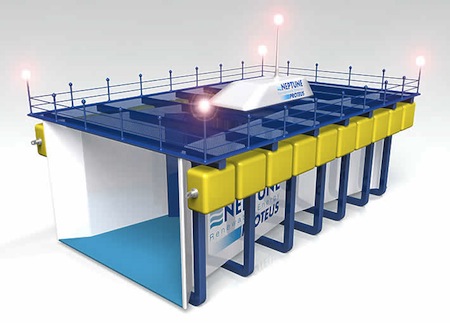 "As the Humber region develops into a leading U.K. centre for renewable energy, we need to raise awareness of the potential for tidal power business as a significant contributor," said Glenn Aitken, finance director of Neptune. "It has some clear advantages over wind power including being a totally predictable and continuous source of clean energy as well as being visually unobtrusive."
In July 2010, the 150-ton Proteus was towed along Hull's William Wright Dock, and generated enough electricity to surpass the commercial minimum requirement. It has since had adjustments made to its electrical installation, and in early August the equipment for the Proteus was installed in The Deep's control room. More work is slated for the coming month.
Neptune Renewable Energy is far from done with their tidal power development; they're at work on the Proteus NP1500. Plans call for it to be used in the Humber, as well, providing grid power for about 5,000 homes.