It's not entirely biofuels production that is driving food prices higher this year. Chinese soybean imports have played a huge role by helping lift all prices, and poor weather and a weak dollar have contributed as well. But demand for corn for the production of ethanol, encouraged by U.S. policy, has been a significant factor by creating persistently tight commodity markets, according to a new study.
The Farm Foundation commissioned the study, which was carried out by three Purdue University experts – one in international trade and macroeconomics, one in commodity markets and one in energy and policy economics. In assessing the role of biofuels demand, the trio noted that the production of ethanol gobbled up 27 percent of the 2010-11 corn crop, nearly triple the 10 percent that went to ethanol production in 2005-06. "Biofuels policy," the report concluded, "has brought about a large, persistent and non-price responsive demand for corn."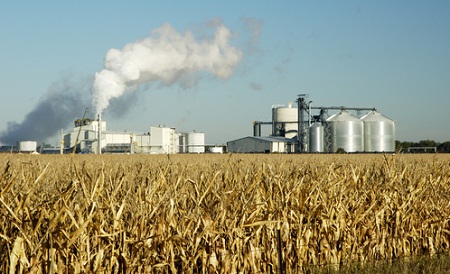 The report comes at a time when U.S. policy on ethanol might be changing. The Senate last month voted 73-27 to eliminate a subsidy that pays oil companies $0.45 per gallon to blend ethanol with gasoline. Whether that move in one chamber of Congress eventually makes it through to law remains to be seen, but the trend in Washington seems to be turning against ethanol.
Still, according to the Farm Foundation study, eliminating that so-called "blender" subsidy wouldn't have much of an effect on commodities markets, at least not immediately. In part that's because a separate government mechanism, the Renewable Fuels Standard, mandates a certain level of ethanol use. Plus, with ethanol production capacity already in place and the price of oil high, ethanol doesn't need a subsidy to remain popular.
The good news, the report said, is that with the mandated level of ethanol use now being reached, the proportion of corn going to ethanol production is unlikely to rise significantly. Barring bad weather or other farming issues, the report said, "with the reduced growth rate in these demands, it will be easier for global (corn) production to catch up with demand."