There must be something green in the water over at Toshiba HQ. The Tokyo-based company just announced a big acquisition of a Swiss smart grid technology company said to be worth about $2.3 billion and now it appears that it is ready to dive head-first into the wind energy business company as it announced a deal with a Korean wind power generator company worth about $364 million.
Toshiba will be wedging its way into the wind power sector through what it calls a "strategic business alliance for the co-development and marketing of wind power generators." If the deal with Uniscn Co. is approved, Toshiba will subscribe to a convertible bond issued by Unison that is said to be worth about $3 billion Yen (about $364 million).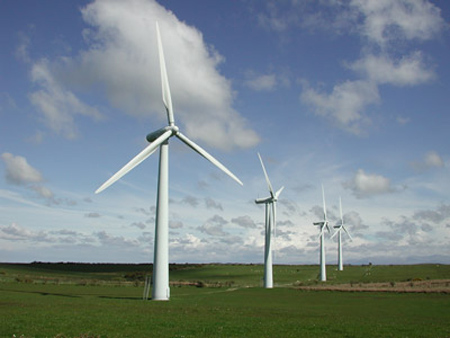 Toshiba seems to be interested in Unison's direct-drive generators made for wind turbines. The generators are said to be highly durable as a result of their gearless design. The alliance between the two companies would give Toshiba world-wide distribution rights for Unison's generators. Toshiba says it will also use the expertise it acquired through its work with steam turbines to help co-develop higher efficiency wind turbines.
If the deal goes through, Toshiba will be able to add wind energy to a growing renewable energy portfolio that already includes hydro, photovoltaic and geothermal power generation.