A a real-time offshore ocean energy test facility and scientific observatory could someday be coming to offshore Florida. The Bureau of Ocean Energy Management, Regulation and Enforcement (BOEMRE) has opened up a comments period for a proposed lease to Florida Atlantic University (FAU) to explore generating electricity on the Outer Continental Shelf (OCS).
BOEMRE said this is the first lease application it has thus far received to test ocean current equipment on the OCS. The proposed area, approximately nine to 15 nautical miles offshore Fort Lauderdale, would consist of an experimental demonstration device likely similar to equipment FAU said it successfully completed testing on back in April.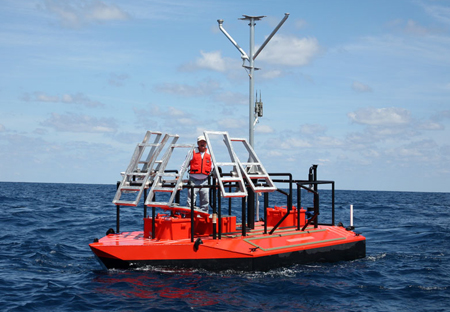 According to BOEMRE, FAU's lease calls for installing a buoy, deploying small-scale ocean current devices, and operating a deployment vessel in the proposed area. FAU's testing back in April deployed a steel-hulled buoy that was approximately 21 feet long and 10 feet wide. It is said to have a unique hull design shaped to survive strong currents. On board the buoy, there were a variety of renewable power sources such as solar panels, small wind turbines and sailboat water turbines that provide power for onboard oceanographic instruments, safety and navigation systems, and wireless communication.
FAU hosts the Southeast National Marine Renewable Energy Center, which was established with the help of the U.S. Department of Energy last year. It is studying, among other things, sustainable, renewable energy technologies that are capable of generating energy from ocean currents and ocean thermal energy. This center is the one handling this test pilot project, with the stated goal of providing the nation with its first offshore ocean current generator test berth.