Germany has officially joined the offshore wind energy race as its first offshore wind farm, located just off the German coast in the Baltic Sea, is now in operation. According to a recent statement by Siemens,  the project is just one of several planned for the region that could ultimately bring between 20,000 to 25,000 megawatts to Germany by 2030.
EnBW Baltic 1, which was commissioned earlier this month by EnBW Enrgie AG, is comprised of 21, 2.3 megawatt Siemens wind turbines, each with  a rotor diameter of about 305 feet (93 meters).  EnBW Baltic 1 is expected to  supply clean electricity to upwards of  50,000 German households. The facility, which was constructed by Siemens, reportedly covers a little over 2.5  square miles in the Baltic Sea, located approximately 52 miles north of the Darss/Zingst peninsula.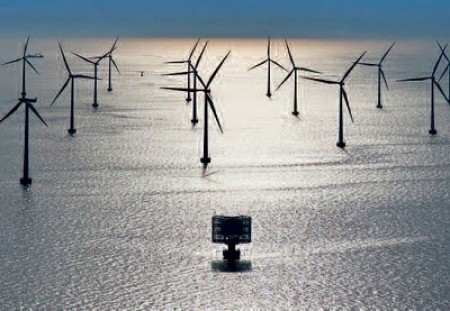 Siemens reports it will also build the EnBW Baltic 2 offshore wind farm. That project is slated to involve up to 80 wind turbines, each with a capacity of 3.6 MW and a rotor diameter of almost 394 feet. Baltic 2 is currently slated for connection to the grid in 2013, and would supply about 340,000 more households with clean electricity by way of offshore wind.
Siemens also said it has received orders for a total of five offshore wind power plants in German waters. On top of  EnBW Baltic 1 (48.3 megawatts) and EnBW Baltic 2 (288 megawatts) the company has contracts for a wind farm called Borkum Riffgat (108 megawatts) and DanTysk (288 megawatts). Earlier, in February of this year, Siemens also received an order to build the Borkum Riffgrund 1 wind farm, which is expected to generate 320 megawatts. That's over 1050 megawatts of wind power capacity already on the books for Germany.