We recently covered news from a report that showed China, in 2010, led the world in clean energy investments. More recent news from the Global Wind Energy Council (GWEC) gives some indication as to what effect the heavy investment capital has had on renewable energy efforts in the country. According to a GWEC report, China added 18.9 gigawatts of wind energy power capacity last year and, in doing so, bumped their total capacity up to 44.7 gigawatts.
These numbers come as an update to estimates that were released earlier this year. Considering these new figures, the global wind power growth for 2010 has been updated to 38.3 gigawatts, which the GWEC notes is very close to the growth experienced in 2009. The world total for wind power capacity now stands at 197 gigawatts.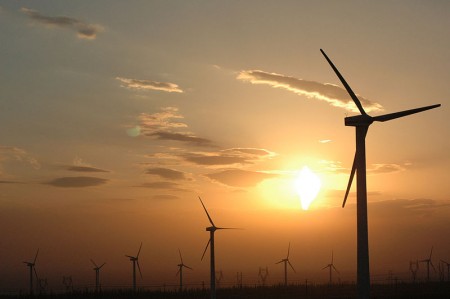 Qin Haiyan, Secretary General of the Chinese Wind Energy Association (CWEA) explains the "gap" between previous reports and the more current 44.7 gigawatt number, saying the new number, "includes turbines which have been grid connected and are delivering electricity, even if they have not yet completed the commissioning and acceptance procedure, which can take several months." Haiyan went on to note that, in other markets, it is common practice to count turbines as soon as they are operating and grid connected.
China's wind market doubled in installed capacity every year between 2005 and 2009.  In 2010, China overtook the United States as the country with the most installed wind energy capacity. A Chinese government report has optimistically calculated that the country's total installed wind power capacity could reach 200 gigwatts by 2020 and generate 440 terawatt hours of electricity annually.
EarthTechling wants your opinion! Take EarthTechling's 3-minute reader survey and enter to win a $250 Amazon gift card.  The 2011 survey closes on April 15, 2011.