It would seem that the Commonwealth of Virginia has set its sights on the waters off its coastline as a potential location for offshore wind energy operations. Dominion Virginia Power announced that it launched a study into what it would take to lay down a high voltage transmission line from Virginia Beach out to the Atlantic ocean to support what could end up being multiple offshore wind farms.
Dominion says the study is just the first step toward its ultimate goal of laying down the transmission line that would bring offshore wind energy to its customers in Virginia. The study is expected to be completed sometime this year and provide information about what options would best support multiple offshore wind projects.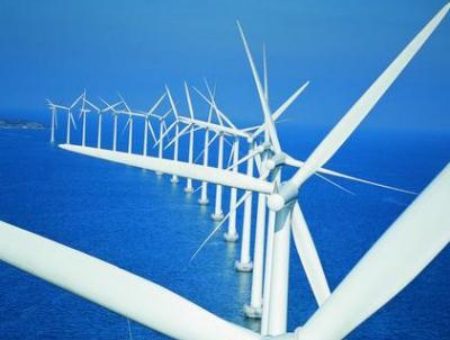 A study that the company completed last year suggests that its existing transmission lines in east Virginia could handle power from "large scale wind generation facilities up to a total installed capability of 4,500 megawatts." The study also indicated that sending 1,500 megawatts of power into a Virginia Beach substation shouldn't create transmission deficiencies.
If things go forward the way Dominion hopes, it would work with PJM Interconnection through its Regional Transmission Expansion Planning process. The Virginia State Corporation Commission would also have to approve any power line project.
Though Dominion made no comments at to how its vision would work with or in contrast to the Google backed Atantic Wind Connection project or the U.S. Department of the Interior's plans, it is likely it would somehow end up being involved with those initiatives.
EarthTechling wants your opinion! Take EarthTechling's 3-minute reader survey and enter to win a $250 Amazon gift card.  The 2011 survey closes on April 15, 2011.