The League of Green Embassies is working to incorporate the best in new, energy-efficient products and technologies from U.S. companies in embassies around the world. Recently, we received word that one of the members of this 80-member consortium–the U.S. Embassy in Helsinki, Finland–will feature micro-wind turbine manufacturer WindStream Technologies' TurboMill.
The installation was highlighted at recent embassy press event with Vice President Joe Biden on March 8. During the event, the U.S. Ambassador to Finland, Bruce Oreck, said, in a statement, "U.S. embassies are perfect venues to illustrate U.S. green leadership. We want to promote U.S. companies with intelligent building products, services and technologies. WindStream's innovative product fits well into this effort."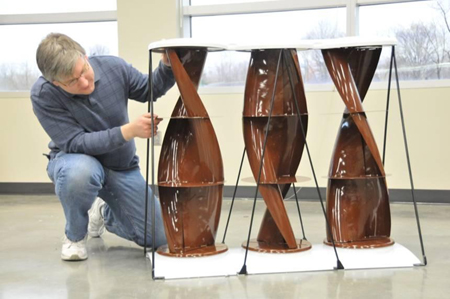 WindStream's TurboMill micro wind turbines reportedly will reduce the embassy's demand on the local grid, as well as its energy costs and greenhouse gas emissions. These units are said to be rugged enough to hold up to Finland's harsh winters for many years to come, and should the embassy wish to add more such turbines in the future, no problem–the system is scalable, so more units can be added as energy needs grow. The product is said to generate energy even from light winds at 4-5 miles per hour, which means these turbines could, at least according to the manufacturer, generate electricity through all four seasons.
WindStream Technologies–based in New Albany, Indiana–designs, manufactures and markets its micro-wind turbines for governments, municipalities, businesses and residences. Its partially-enclosed TurboMill technology is reportedly said to make wind power accessible to residential and urban areas where traditional turbines don't work due to noise restrictions and aesthetic impact.
We hope you are enjoying the green technology news and insight provided by our dedicated editorial staff. If you do, please take a moment to help us spread the word by voting for us as Best Environmental Sci-Tech blog in the annual Best of Green 2011 TreeHugger awards. Voting ends on April 1, 2011. Thank you!