President Obama, looking to build a further case for his domestic clean energy agenda, took to the stand at Georgetown University yesterday to deliver a speech on energy security. A big focus of his talk was on the need to cut oil imports, said to be at 11 million barrels of oil a day in 2008, and replace it with what is described as "diverse and reliable sources of energy."
The Obama speech, which you can watch in its entirety below, is accompanied by a hefty "Blueprint For A Secure Energy Future" document available from the White House for reading. A shorter information fact sheet is also available. As for the President's plan, he desires by 2025 to have that volume of imported oil cut by one-third. To do so, forms of domestic energy that will need to be bulked up include, besides increasing the domestic oil supply in a "safe and responsible" matter, natural gas and the other usual suspects: wind, solar, biofuels, hydropower, nuclear and clean coal.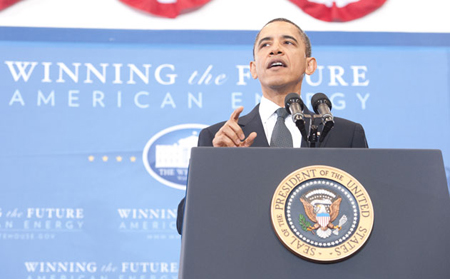 In addition, the President is calling for what is being described as "setting historic new fuel economy standards" that, for model years 2012-16, will raise the average fuel economy for passenger vehicles to 35.5 miles per gallon by 2016, and save a projected 1.8 billion barrels of oil over the lifetime of the vehicles covered. There's also a push for vehicles with more advanced fuel technologies (i.e. hybrid, electric), which we've heard mentioned before.
In order to get to this last item, it has been decided that the federal government will lead by example. To this end, all agencies under Obama's administration are being told to ensure that by 2015, all new vehicles they purchase will need to be alternative-fuel vehicles, including hybrid and electric vehicles. With a fleet of over 600,000 vehicles currently in use, this could potentially mean a lot for the developing green car space.
And, of course, the White House and U.S. Department of Energy want to hear from Americans about this plan. To that end, they are taking feedback on how the country can meet the President's goal of reducing our oil imports by one-third in a little over a decade.
"Our best opportunities to enhance our energy security can be found in our own backyard — because we boast one critical, renewable resource that the rest of the world can't match:  American ingenuity," said President Obama. "American ingenuity, American know-how."