Remember that wind-turbine parts manufacturing plant we told you Siemens was opening in Hutchinson, Kan.? There's more work coming its way, from neighboring Iowa: In a press release, Siemens said it had reached an agreement to sell 258 2.3-megawatt (MW) wind turbines to MidAmerican Energy Company for use in three Iowa projects with a combined capacity of 593 megawatts.
Siemens said the deal is its largest ever for land-based wind turbines, and includes service, maintenance and warranty agreements for the Laurel, Rolling Hills and Pomeroy wind projects in Iowa.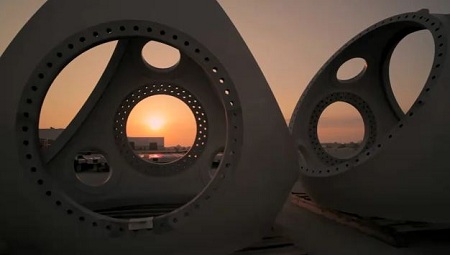 "These wind turbines will be produced in our factories in Fort Madison, Iowa, and in Hutchinson, Kansas, and will supply secure and environmentally friendly energy to 190,000 average U.S. households," Rene Umlauft, CEO of Siemens' renewable energy division, said in a statement. "As the U.S. market for wind power continues to develop even further, Siemens will continue to create clean energy jobs in America's heartland."
Siemens makes the turbine blades at its 600,000-square-foot plant in Fort Madison, and manufactures the turbine nacelles — the housing for the components that generate electricity – at its 300,000-square-foot nacelle plant in Hutchinson.
Like what you are reading? Follow us on RSS, Twitter and Facebook to learn more and join the green technology discussion. Have a story idea or correction for this story? Drop us a line through our contact form.