The Obama administration, agreeing with a claim by the United Steelworkers, is challenging a Chinese government program that provides subsidies to the country's wind-turbine manufacturing industry, and has formally brought the dispute to the World Trade Organization (WTO).
At issue is a fund set up by China that awards grants to domestic makers of wind turbines as well as wind-turbine parts and components. In announcing the U.S. action, Trade Representative Ron Kirk said the grants, totaling perhaps several hundred million dollars since 2008, run afoul of WTO rules because they are "contingent on wind power equipment manufacturers using parts and components made in China rather than foreign-made parts and components."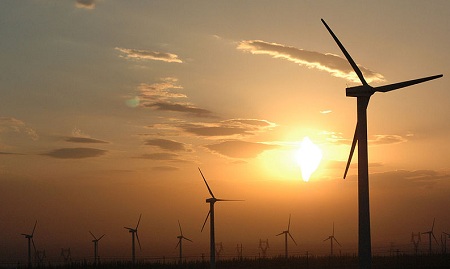 The United Steelworkers had petitioned the Obama administration in September on the matter, and Kirk's announcement drew strong backing from the union – in  a statement, International President Leo Gerard called it "an early note of holiday cheer for those workers in the alternative and renewable energy sector who work hard, play by the rules and simply want a chance to compete."
The Steelworkers' petition included a long roster of alleged trade violations by the Chinese. Kirk said talks with the Chinese earlier this month led to "progress on some of these other areas of concern." In one case, the Chinese agreed to end a requirement that foreign wind-equipment suppliers bidding on projects in China already have experience on large-scale projects in the country. Now, such experience overseas will also be enough to qualify. Kirk also said the Americans accepted a Chinese claim that two other allegedly barred subsidies – the "Export Research and Development Fund" program and the "Ride the Wind" program – had been ended.
At the same time, Kirk said his agency was continuing to investigate additional claims in the Steelworkers' petition.
Under the WTO dispute process, set up to encourage countries to settle their differences "out of court," the United States and China will hold consultations on the U.S. claim. If those talks fail to resolve the matter, the Americans could then ask the WTO to form a panel that would formally investigate and report on the claim.
Looking for green gadget gift ideas for this holiday season? We have you covered with our annual Green Gadgets Holiday Gift Guide – check it out now!