Even as its neighbor to the north gets its share of wind farm development and investment, South Dakota is not being left out in the cold on wind power. Quite to the contrary, what is being billed as the largest wind project in the United States owned solely by a cooperative has begun construction.
The 151.5 megawatt (MW) capacity Crow Lake Wind Project will consist of 108 turbines located throughout Aurora, Brule and Jerauld Counties in the south-central part of the state. This $363 million project is being developed by PrairieWinds, a subsidiary of Basin Electric Power Cooperative. This is not the first wind power project for Basin either. When this particular one is completed, it will have more than 700 megawatts of wind generation in its portfolio.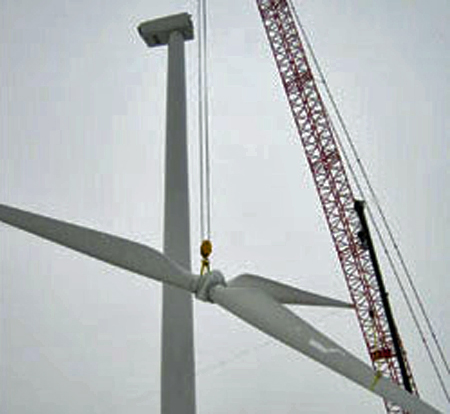 And, in an interesting twist to this project, not all of the turbines will be owned by Basin Electric. Seven turbines will be owned by South Dakota Wind Partners, who will sell back the electricity generated from them to Basin. And one other turbine was purchased for the Mitchell Technical Institute (MTI) through a a $1.167 million grant from the U.S. Economic Development Administration. This turbine will be used to train students in their wind turbine technology program.
"This project is the perfect example of how the private sector, industry, federal and state partnerships can build South Dakota's new energy economy," said U.S. Rep. Stephanie Herseth Sandlin in a statement. "This is a unique project that combines the innovative spirit of South Dakota – and of course North Dakota, too – with tax incentives and grants that Congress has put into place to provide stability and growth to the wind energy industry."
Like what you are reading? Follow us on RSS, Twitter and Facebook to learn more and join the green technology discussion. Have a story idea or correction for this story you are reading? Drop us a line through our contact form.