Manufacturing giant wind turbines sure can take up a lot of ground. The city of Pueblo, Colorado now can witness exactly how much as Vestas, a developer of wind turbine systems, has opened up there the world's largest wind tower manufacturing plant as part of its Vestas Towers America division.
The new Vestas Towers America Colorado plant takes up around a whopping 13 million square feet of space and eight miles of on-site railway tracks for the transport of materials and finished tower components. The facility currently employs more than 400 workers and is capable, at peak production, of producing 1,090 towers per year.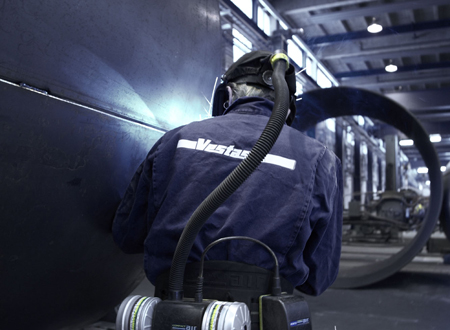 In terms of steel work, Vestas Towers America said it has the ability to process more than 200,000 tons of steel per year — enough to build two bridges the size of the Golden Gate every year, or the equivalent of 28 Eiffel Towers. The company has been hiring actively from the area's talent pool, seeking what it says are highly skilled employees who have been turned loose from other industries, such as the industrial products and construction fields.
"We've hired people in a number of functions related to tower building, including steel fabricators, finishers, welders, assemblers and maintenance personnel," said Anthony J. Knopp, Vice President, Vestas Towers America, Inc, in a statement. "It is amazing how many traditional manufacturing job skills are directly transferable to Vestas. This translates to a win-win for our company and the people who live in this region."
Like what you are reading? Follow us on RSS, Twitter and Facebook to learn more and join the green technology discussion. Have a story idea or correction for this story you are reading? Drop us a line through our contact form.