The United States government has been making moves recently towards greening its operations, and that's a trend that seems to be continuing with the Armed Services. According to a recent release, the U.S. Army has received a mobile trailer-mounted WindTamer turbine and renewable energy storage unit, destined for testing and further development at the Aberdeen Proving Ground in Maryland.
According to the WindTamer Corporation, this portable combination turbine and storage unit will be used for demonstration purposes for the U.S. Army Research, Development and Engineering Command (RDECOM). This agency is the Army's largest technology developer and its primary source for research, development and engineering services–so presumably, if tests with this first mobile unit go well, others will be integrated into Army operations on a larger scale.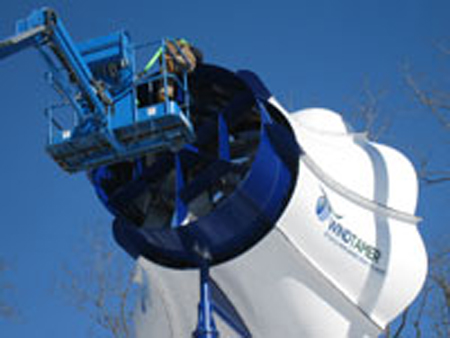 This "renewable energy trailer" was designed by WindTamer engineers in conjunction with RDECOM to be able to rapidly deploy immediate power to military units using 100% wind and solar power. It includes a patented WindTamer turbine, an internal battery, and inputs for solar energy and shore power AC as well as multiple 28VDC and 120 VAC outputs. The trailer unit features full monitoring capabilities for all of these energy components as well as for wind speed and temperature.
Mark Matthews, Vice President of Sales and Marketing for WindTamer, said, in a statement, "The mobile WindTamer turbine and wind/solar energy storage unit is being tested for use as an alternative to diesel generators in various military applications. Diesel fuel, especially fuel that must be delivered by the military to remote areas, is extremely expensive, and after transportation costs are factored in, can cost $20 per gallon or more. Our mobile unit would offset that high cost of transportation by generating renewable energy on site. We view military use of our trailer-mounted system as a significant market for WindTamer going forward."
Like what you are reading? Follow us on RSS, Twitter and Facebook to get green technology news updates throughout the day and chat with other green tech lovers.