While it's clear that wind power has a lot of potential, harnessing that potential rests largely on being able to store energy for use when the wind isn't blowing. A new design by Copenhagen-based architectural firm Gottlieb Paludan called Green Power Island may help to spell a solution.
The Green Power Island makes use of pumped hydro, a storage strategy that's already in wide use. Conventional pumped hydro systems use vertically separated reservoirs to utilize the power of water and gravity; during times of low demand (off peak),  water is pumped using excess energy from the lower to the upper reservoir. As demand increases, the water is allowed to flow downhill into the lower reservoir, generating electricity in the process. In this system, the amount of power that can be stored is limited by the amount of water that can be stored–and, of course, the height difference between the two reservoirs.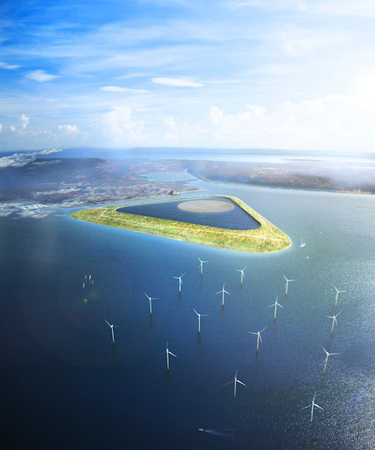 Paludan has taken this strategy and given it a new twist with his proposed Green Power Island. His design makes use of seawater pumped into a lagoon-like reservoir built into an artificial island. When demand is low, pumps driven by wind turbines empty the reservoir. At peak periods, water is allowed to flow back into the reservoir, through turbines generating electricity to meet the rising demand. By positioning the reservoir within an existing body of water, the system removes the necessity of having to create two reservoirs at different heights.
While there are environmental questions and concerns associated with this "artificial island" design, Paludan is confident that these islands can be constructed in ways that minimize impact on local wildlife and water quality. Plans have already been drawn for Green Power Islands in several locales, including Copenhagen, Bahrain, Jiangsu, and Tampa, and Florida. According to Planetsave, each island–built primarily around wind energy storage, but also featuring PV/concentrated solar/biomass production facilities–will be designed to enhance the surrounding environment and utilize the space with mixed used capabilities, including recreation trails, beaches, harbors,  and even residential and business units.
Like what you are reading? Follow us on RSS, Twitter and Facebook to get green technology news updates throughout the day and chat with other green tech lovers.