Up, up, and algae… er, away! In the case of an algae-powered airship designed by architect Vincent Callebaut, either cheer could be considered true.
On first glance, the airship seems to come from straight from a science fiction writer's imagination.  Hydrogenase, is a zero-emissions, biofuel-powered airship that specifically employs organic algae for power. "This vertical hybrid aircraft is fueled by algae bio-fuel harvested from the floating organic ocean farms powered by seaweed with a combination of inflatable photovoltaic cells and wind propellers utilized as a supplementary renewable energy source," explains Green Muze. The algae farm supplying the ship's fuel is an organic purifying station that receives carbon dioxide delivered via ships. The CO2 is then processed by the seaweed.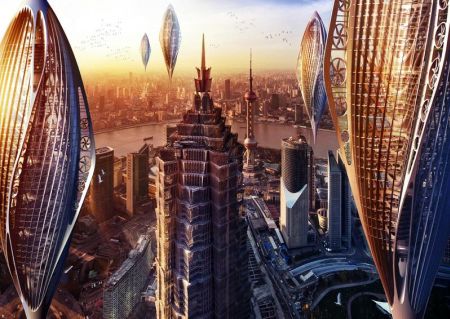 Callbaut,  says the inspiration for the ship's design was derived from the beauty of nature, but more importantly nature's materials and self-manufacturing.