Tired of winding up in the role of bad guy for limiting your kid's electricity consumption? While this concept design may not help your children develop the eco-consciousness it takes to actually turn off the lights, TVs and other gadgets, it certainly seems like a real way to get the job done.
The Wind-Up Socket by designers Dongwon Joo & Jieun Choi works like clockwork–literally. Just plug your appliance or gadget into the Wind-Up Socket and set it for the desired length of time. When the socket winds down, the flow of electricity cuts off: no if's, and's or but's.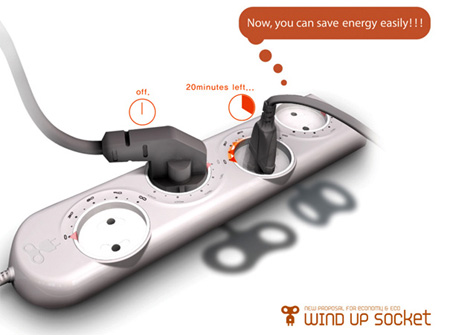 This seems like a great idea, but does the clockwork count-down mechanism have to be incorporated directly into the plug? It seems like this is a design that could pose some real problems with twisted cords, etc.–an issue that might need to be worked out before this concept becomes a reality.