We hear a lot these days about wind turbines: wind turbines grouped together in farms, wind turbines for your house, wind turbines capable of changing the climate around them… If you're clamoring for more wind turbine goodness, the Dandelion windmill offers you the chance to become one.
A wearable windmill designed by Mary Huang and Jennifer Kay, the Dandelion's aesthetics are nothing if not elegant, instantly transforming the wearer into a white-and-gold-winged fairy upon donning the device. Its functionality is even more impressive: as the wearer of the turbine goes about her day, "tiny circuits convert the energy generated from the moving blades into light, which in this prototype's case, takes the form of tiny white LEDs," according to Ecouterre.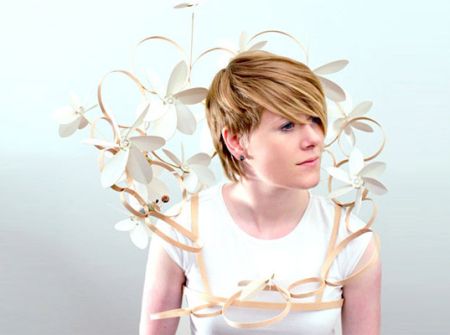 Obviously not everyone will be able to cope with prancing around in public glowing like Tinkerbell. In such cases, the accumulated energy can be used to juice up portable electronics such as cell phones.
Enjoying EarthTechling? Vote for us as Best Sci-Tech Blog (scroll down to fourth category) in the TreeHugger Best of Green Awards! Thanks!