Walmart has a long way to go before it realizes the full power-producing potential of is vast roof space, but the company has been chipping away at it: In the latest figures from the U.S. Environmental Protection Agency's Green Power Partnership program, Walmart is the top on-site energy producer – the company's third straight year at No. 1.
According to the EPA, Walmart's annual on-site renewable generation is now just shy of 175 million kilowatt-hours. The average U.S. residential utility customer uses 10,837 kWh of electricity per year, so Walmart's on-site energy generation is equivalent to all the electricity used annually by 16,133 households. It's also 1 percent of Walmart's total annual energy use.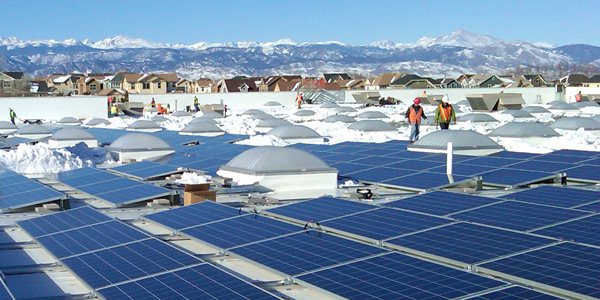 Walmart says its on-site power comes from solar, wind and biogas. The company almost certainly doesn't use actual on-site biogas; as EBay does at a data center in Utah, the customary practice is to use on-site fuel cells that can run on biogas, but since biogas is rarely available at a corporate site, the fuel cells run on natural gas while the company pays a premium to fund the production of biogas elsewhere.
Solar is the big true on-site generator for Walmart – as of last fall, it led all U.S. companies with 89 megawatts of installed solar power, having put in 24 MW in the previous year alone. Costco (47 MW), Kohl's (45), Apple (41) and Ikea (35), rounded out the top five in total corporate solar.
Ikea must not participate in the Green Powership Program – it doesn't appear on the on-site power list put out by the EPA. Trailing Walmart on that list: The U.S. Department of Energy, at 110 million kWh, followed by Apple (101 million), BMW (70 million) and Coca-Cola (41 million).
"The EPA's Green Partnership requires that organizations use of green energy comprise any combination of three different green product options: renewable energy certificates, on-site generation, and utility green power products," Walmart said in a post on its Green Room blog. "And though we have used all three of those products, our true commitment lies with on-site power generation."
With purchased green power included in the totals, the EPA list shows Intel the leader at 3,100 GW, followed by Microsoft (1,925 GW), Kohl's (1,536) Whole Foods (800) and Walmart (751).