Let's face it, even though many of us love straws, they aren't necessary and they create a lot of unpleasant plastic waste. Many companies are discontinuing the use of plastic straws and the state of California has banned single-use plastic straws altogether.
Thankfully, there is a simple, eco-friendly answer: reusable straws!  There are many options when it comes to reusable straws. After a bit of research, we have found the top five best reusable straws. We will also tell you all about what you should look for in your search for the best reusable straws for you and your family.
Top 3 Best Reusable Straws of 2021
---
Reviews of the Best Reusable Straws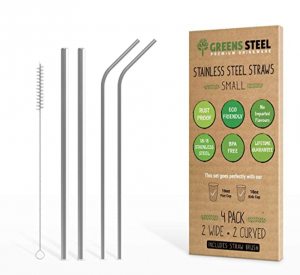 Quick Look: Comes in packs of four with two wide straws and two bent straws. Easy to clean, rust and scratch proof. Comes in multiple sizes with eco-friendly packaging.
Check Price at Amazon
If you are new to reusable straws and aren't sure if you want to make a big investment, then these stainless steel straws from Greens Steel are the perfect option for you. These easy-to-use straws come in packs of four with two bent straws and two wide straight straws. They come in small, medium, and large so you can choose the length that works best for you.
These solid single-piece straws require no assembly, simply slip it in your drink, sip, and enjoy. Their simple design makes them easy to clean with the included cleaning brush. They are also dishwasher safe for even easier maintenance.
Greens Steel truly cares about the environment and creating quality products that are great for you and planet earth. These straws are BPA and toxin-free and they have curved edges, making them safe and easy to use for straw users of all ages. The only thing to remember about these straws is that since they are solid stainless steel, they can become very hot when placed in hot beverages. Sip with caution if you like your drinks extra hot!
Learn More and Buy Now at Amazon
---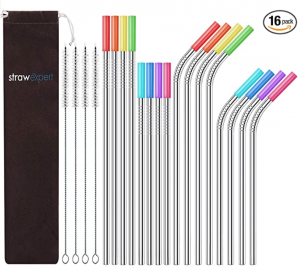 Quick Look: Multipack of 16 straws of varying sizes and styles. Includes silicone tips in eight colors, two cleaning brushes, and travel pouch. Food grade stainless steel.
Check Price at Amazon
This multipack of StrawExpert Stainless Steel Straws is perfect for anyone who is ready to replace all their straws with eco-friendly reusable straws. This pack includes both straight and bent straws in two sizes for tall and small beverages. These straws are rust and scratch-proof as well as dishwasher safe.
The best thing about these straws is the silicone tips. Some people avoid using stainless steel straws because they do not like the feeling of the stainless steel on their lips, but with these straws, you do not have to worry about that. This pack includes food-grade silicone tips in eight bright colors, making it easy to differentiate between drinks. The tips are easy to remove and clean.
With this multipack you are sure to have enough straws for your whole family and with the convenient carrying pouch, you can have your straws on the go. These straws are good for beverages of all temperatures, whether hot or cold, so be sure to take them with you year-round.
Learn More and Buy Now at Amazon
---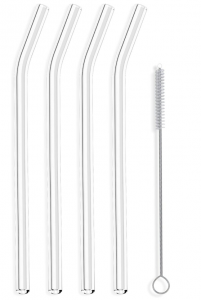 Quick Look: Hand-made glass straws, made in the USA with borosilicate glass. Wide, easy to clean, sleek design. Dishwasher safe and recyclable.
Check Price at Amazon
Although some may be hesitant to use a glass straw, fearing that it would be too delicate, you can set your fears aside when using these quality straws from Hummingbird. These straws are made from borosilicate glass, making them chip and shatter-resistant.
These beautifully clear glass straws are easy to use and clean. They are BPA and toxin-free and will never affect the flavor of your drink. Their wide design makes these the perfect straws for smoothies or any thicker beverage. The crystal clear glass allows you to easily see if your straw is completely clean or not. You can easily clean these straws with the included brush or you can simply slip them into the dishwasher.
Glass straws are the perfect choice for those who want to purchase reusable straws, but do not like the feeling or look of steel straws. Although these are not ideal for traveling, they are pretty durable so as long as you're mindful, this straw can go anywhere that you go. Best of all, the glass is recyclable, so if at any point you no longer want your glass straws, you can recycle them.
Learn More and Buy Now at Amazon
---
How We Chose The Best Reusable Straws
There were a few key features that we looked for when choosing the best reusable straws. These features include durability, portability, and ease of use.
Durability
The main purpose of switching to a reusable straw is to avoid waste, so it would only make sense that we look for straws that are meant to last. Although there are several types of reusable straws on the market today, we looked for brands that pride themselves in using quality materials that are meant to last a lifetime.
Portability
Portability may not be an important feature for some, it is still an important quality when it comes to reusable straws. Although not all of our picks were ultra-portable, we did look for features like carrying cases and collapsible cleaning brushes. Committing to using a reusable straw is a lot easier if you have a straw that can go everywhere you go.
Ease of Use
Straws are not a complicated product, but there are a few features that can make using your reusable straw more enjoyable. Portability, size options, style options, and easy cleaning are all features that we looked for when choosing the best reusable straws. Everyone has their own preferences when it comes to straws. With that in mind, we chose a wide variety so you could see that no matter which type of straw you prefer, there is a reusable version out there for you.
What You Need To Know About Reusable Straws
Understanding the differences between the materials from which these straws are made is the most important element when it comes to choosing the best straws for you. As we already mentioned, reusable straws do come in several different materials including plastic, stainless steel, glass, silicone, bamboo, and combinations of these materials. Knowing the benefits and drawbacks of each material will help you choose the right straws for you and your family.
Plastic
Although hard plastic straws do decrease the number of single-use straws that are going into landfills, plastic is not a great choice. Many plastics contain harmful chemicals that can leach into your drink, especially if your beverage is hot. These straws can also be scratched, leaving tiny crevices where bacteria can grow. These are often non-recyclable as well, so even though these straws may decrease the number of single-use straws you use, they will still end up in a landfill someday.
Stainless Steel
Stainless steel is a great material for reusable straws because it is strong and durable. You can shove a stainless steel straw into a glass full of ice and never worry about it bending or chipping. These straws will last a lifetime, no matter how often you use them. One downside to stainless steel straws is that they are rarely collapsible, so portability is less convenient. With collapsible versions, there is often a screw that must be used to hold the pieces together, which is also inconvenient. Another downside is that stainless steel conducts heat and cold very easily so you will find that your straw matches the temperature of your drink, so sip cautiously. Last, but not least, some people find that steel straws can have a bit of a metallic flavor, which is a turn off for some users.
Glass
Glass is a great choice for those who do not like the feel of stainless steel. Glass straws are elegant and beautiful, making them fun to use. They are also super easy to clean because you can see through them. On the downside, glass is breakable. If you choose borosilicate glass, you are less likely to experience any breakage, but you still have to be careful.
Silicone
Food-grade silicone straws offer the most traditional straw experience because they are soft and flexible like a plastic straw. They are great for travel because they are virtually unbreakable and they are collapsible, making them compact. Unfortunately, their softness can also be a drawback. You can't shove a silicone straw through ice the way you can a stainless straw. Their flexibility can also create challenges when trying to getting the last sip out of your cup. Silicone also does not last as long as steel or glass, so they have to be replaced more often. On the upside, silicone is recyclable, so when it is time to replace it, you can throw it in the recycle bin.
Bamboo
Bamboo straws are by far the most eco-friendly straws on the market. They are environmentally friendly from start to finish because bamboo is easy and clean to grow and it grows back very quickly. These straws are completely compostable, so when you're done using them you can simply throw them out with your food waste. The trouble with bamboo straws is that they are not very durable when compared with steel and glass. Although they are washable, they only last six months to a year before they have to be replaced. They are typically inexpensive though, so if you do not mind replacing them, they are a great eco-friendly choice.
Steel and Silicone
In terms of quality and user-friendly features, the best reusable straws are a combination of stainless steel and silicone. By combining the two materials, manufacturers have been able to overcome the shortcomings of using just steel or just silicone. These straws are designed to be durable and strong, but also easy and comfortable to use. The steel gives the straw the durability you want while the silicone protects your lips from high temperatures and the uncomfortable feeling of steel.
How to Choose The Best Reusable Straws
Now that you know all about the different materials, choosing the best straws for you is a breeze. Simply choose the material you want, then consider style and quantity.
Style
There are a lot more styles of reusable straws than there are single-use plastic straws, so this takes some consideration. A few of the options you'll want to consider include collapsible or solid, bent or straight, narrow or wide, and, of course, size. For those on-the-go, collapsible may be the best choice where solid might be a better option for those who want a sturdier feel. Some people find perfectly straight straws awkward and hard to use, in which case, a bent straw would be the right choice. Normal narrow straws are perfect for coffee and tea, but if you want to use your reusable straw for smoothies then you should choose a wide straw. Choosing the right size is also important because if your straw is too long it may flop out of your drink, but if it is too short it won't reach the bottom. There are pros and cons with every style, so make sure you choose the type that best fits your sipping style.
Quantity
This may seem a bit obvious, but make sure you purchase the right quantity of straws. You would be surprised by the number of reviews that say things like, "I should have ordered more." or "Ordering another set now." If you're living alone and don't have a lot of company, then one straw may be enough, but even if you're flying solo, having a spare is a good idea. You may want to have one for home and one for traveling or one for the car and one for the office. If you have multiple people living at your house then you will definitely want to order enough for everyone and perhaps a few extras for guests or for those days when the dishwasher wasn't turned on. Having a few spare for guests to use may also help you encourage your friends to start using reusable straws as well, so give it some thought before you order.
Bottom Line
Hundreds of millions of plastic straws are thrown away every day. This excess plastic waste causes harm to both wildlife and plant life. By switching to a reusable straw, you can have an impact on the world around you by decreasing plastic waste. By using a reusable straw, you are not only protecting the environment but yourself as well. Plastics can leach harmful chemicals into your drinks, especially if you drink carbonated or high-temperature beverages. So why not skip the plastic and try something that is better for everyone? Reusable straws come in many different materials and styles, meaning that you are sure to be able to find the perfect one for you.
It's hard to go wrong with any of our top reusable straw picks, but compare all of your options before making a final decision to make sure that you're choosing the right model for your circumstances.
Top 3 Best Reusable Straws of 2021