When you think about solar power, what do you picture? If you're like most people, you probably picture the large dark solar panels that can easily take up your entire roof. Although full home solar systems are great, you don't have to make a major financial investment to get started to take advantage of free solar power. There are many affordable ways that you can start using solar energy today such as mini solar panels.
Mini solar panels can be used for a variety of things like small electric models and toys, lights, maintaining batteries, and science projects. Like most solar products, there are many miniature solar panels to choose from, so we've done some research and compiled a list of our top four favorites. Take a look at our picks for the best mini solar panels, then read on for some helpful tips about how you can choose the best ones for you.
Top 4 Best Mini Solar Panels of 2021
---
Reviews of the Best Mini Solar Panels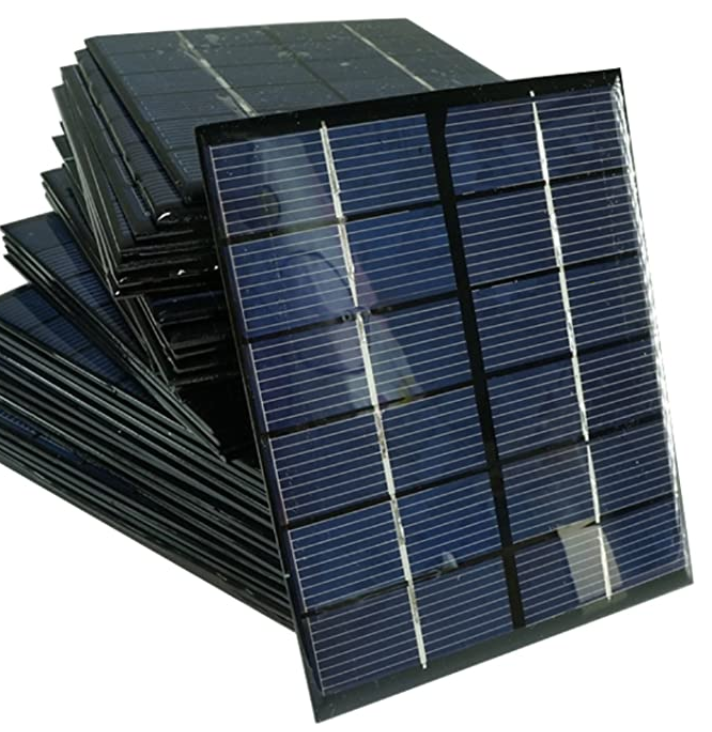 Quick Look: 2W 6V, 4.3 inch x 5.3 inch solar panel. High-efficiency conversion rate. Wind, snow, and water-resistant. Produced with eco-friendly manufacturing.
Check Price at Amazon
There are few things more satisfying than building something from scratch. One way to increase that satisfaction is to build something useful that is also earth-friendly! With this mini solar panel from Sunnytech, you can do just that without adding any extra work to your project.
This solar panel measures only 4.3" x 5.3", but is capable of producing 2W of power. This unit is great for charging small DC batteries or powering your solar lighting, small digital displays, or handheld radio. This panel is also perfect for school projects and for teaching others about the power of solar energy!
The clearly marked anodes and cathodes on the back make installing this panel very simple. If you need a little bit more than 2W of power, you can easily connect multiple panels in series or parallel to increase the power output. SunnyTech is committed to creating earth-friendly products in an earth-friendly way, meaning you can feel just as good about buying this product as you will feel about using it.
Learn More and Buy Now at Amazon
---
Quick Look: 12V 5W, 8.7 inches x 7.5 inches solar panel trickle charger. Comes with alligator clamp and cigarette lighter charging adaptors. Comes with suction cup mounts.
Check Price at Amazon
For those looking for a small solar panel that has a bit more power, check out this 5W panel from ECO-Worthy. This panel is small enough to easily slip into your backpack but powerful enough to keep any of your 12V batteries well-charged.
This solar panel is a great choice for those who are new to solar power because it is plug and play. It comes with two adaptors, alligator clamps, and a cigarette lighter adaptor. Simply attach the clamps to your chosen battery, point the panel toward the sun, and you're good to go.
The best thing about this panel is that it is highly portable. Its compact and durable design makes it a good choice for all your off-road adventures. It also comes with suction cups for simple adjustable mounting on or in any vehicle.
Learn More and Buy Now at Amazon
---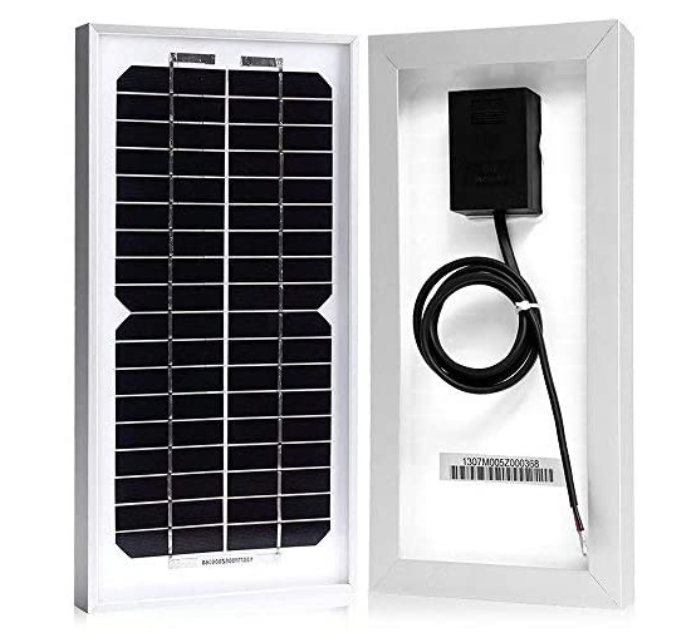 Quick Look: 36 LEDs with 6 solar panels. Mounts on the top of the flagpole. Fits most flag poles. Automatic light adjustments. Wider and brighter than most similar models.
Check Price at Amazon
When you're out on the water, the last thing you want to worry about is whether your boat's battery is well-charged. You can easily avoid these worries with this mini solar panel from ACOPOWER.
This panel is perfect for all your boating adventures. It is waterproof and wind-resistant and is capable of producing 5W of power. This battery can be used for all of your small electrical needs, not only on your boat, but also in your RV, camper, greenhouse, or workshop. It is strong enough to power lights, small motors, and water pumps.
The sturdy frame comes pre-drilled for simple installation wherever you need it most. This panel comes with a 20-year output guarantee and even a 100% money-back guarantee if you're not completely satisfied with its performance.
Learn More and Buy Now at Amazon
---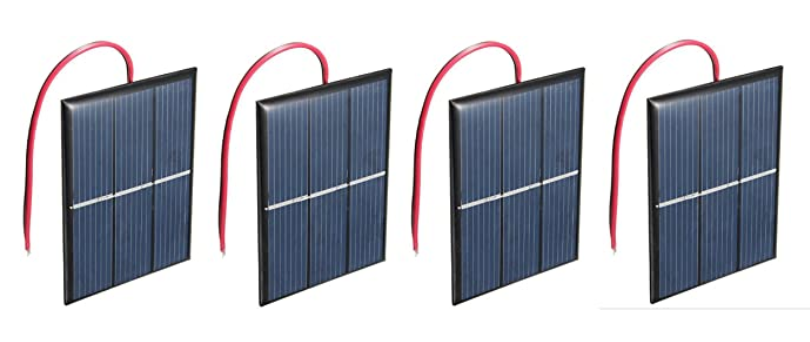 Quick Look: 1.5V .4W, 4.3 inches x 2.3 inches mini solar panels. Pre-soldered anodes and cathodes with 5-inch wires.
Check Price at Amazon
For those projects that may require more than one mini solar panel, take a look at this set of panels from AMX3d. This set of four panels is perfect for your small solar projects that just need a little extra juice. Each panel is capable of producing .4W of power, enough energy to power small models, walkway lights, and more.
These panels come with pre-soldered 5" anode and cathode wires for ultra-simple installation. They can be used individually or wired together in a series or parallel configuration. The pre-attached wiring makes these panels a good choice for school projects or teaching situations where a lot of soldering may not be possible.
With their compact and durable design, these tough little panels are perfect for all your mini solar DIY projects. They are water and weather-resistant and are designed for continuous outdoor use.
Learn More and Buy Now at Amazon
---
How We Chose The Best Mini Solar Panels
Just because these solar panels are mini and are meant to be used on small projects does not mean that they shouldn't be of good quality. In our search for the best mini solar panels, we focused on finding panels that were powerful, durable, versatile, and easy to use.
Power
Since most mini solar panels are single solar cells, they are not going to offer a huge amount of power no matter what brand you choose. That being said, some are more powerful than others. That is why we chose brands that offered high-efficiency panels capable of producing the most possible power for their size.
Durability
Durability is an important element for any solar panel, but it may be even more important with mini solar panels. The smallest panels are often used for science projects, electric models, and toys, meaning that not only do they have to be weatherproof, but they have to be highly impact-resistant as well. The same can be said for our slightly stronger models since they are meant for travel. With this in mind, we looked for tough models that would be able to handle all of your DIY solar projects, no matter how adventurous you are.
Ease of Use
DIY projects should be fun, not frustrating. That is why we chose mini solar panels that were easy to use. Features like sturdy construction clearly marked anodes and cathodes, and pre-soldered wires are all things that make these tiny panels easier to use. For our stronger models, we chose plug and play units that could easily be used on the go. We know that not everyone is going to need the same type of panels, so we looked for a variety of models that would be simple to use no matter what type you choose.
What You Need To Know About Mini Solar Panels
Using mini solar panels is pretty straightforward, but there are a few things that you should know before making your purchase.
Power Generators
For those who are new to solar power, there is one very common solar power myth that we would like to dispel. Some people think that solar panels are like glow in the dark plastic, thinking that if they are left out in the sun long enough they will "charge" and be ready to power your electrical item. That is not the case.
We can easily see why people would think this, considering the fact that so many small solar products seem to work this way. What you don't see on most of those items, such as solar yard lights, is that they all contain small rechargeable batteries. Solar panels are power generators, not storage units. This means that without a battery to store that power, the panel will only work when it is in direct sunlight.
If you're building something that you plan on using at night or in the shade, you will want to add a solar battery to your project, so that the battery can store up power for use after the sun goes down.
Connecting Panels
You probably noticed that a few of our picks have the ability to be connected together and that they can be connected as a series or in parallel. This is another element of solar power that can be confusing. We only have enough room for a short summary here, but hopefully, this will help to provide you with a basic understanding as well as encourage you to do further research.
Connecting your panels in Series means that you are connecting them all together in a single string. This is accomplished by connecting the cathode, or negative electrode, of the first panel to the anode, or positive electrode, of the next panel. You continue to do this with each panel until they are all connected together then you use the positive electrode from the first panel and the negative electrode from the final panel to connect the series to your charge controller or another device.
Connecting your panels in Parallel means that you connect all the positive electrodes together and all the negative electrodes together before connecting to your charge controller. This is called parallel wiring because it keeps the solar panels independent of each other instead of them working as a series.
The most important thing to remember when choosing your panel configuration is that the way you connect your panels affects the power output. If you wire them in series the amps remain the same, but you would multiply the volts. For example, if you have three panels that are 6V and 3 amps, your series would produce 18V and 3 amps. But the reverse is true if you choose to wire them in parallel, so you would end up with an output of 6V and 9 amps.
The different wiring configurations affect the volts and amps differently because voltage measures the pressure at which the electrons are flowing and amperage measures the volume of electrons that are flowing. As you can imagine this is an important thing to understand if you're doing any kind of electrical wiring, even if you're only working with a mini solar panel. We strongly recommend that you do further research on this subject if you plan on using multiple panels.
How to Choose The Best Mini Solar Panels For You
Okay, now that you've made it through all those technical details, we can go over the very simple process of how to choose the best mini solar panels for you.
Power Requirements
The most important element is knowing how much power you need. Mini solar panels have power ratings just like large solar panels do. As long as you know how much power you need, you shouldn't have any trouble matching the panels to your power needs. Be aware that the power output rating on all solar panels is based on their optimum output, meaning how they function in direct sunlight on a perfect day. A good rule of thumb is to expect your panel to produce only about 75% of its promised output and to plan accordingly.
Style
Once you know how much power you need you simply have to choose the style that will work best for you. Do you just want a small panel to carry along on your ATV adventures in order to keep your 12V batteries topped up or are you looking for tiny solar cells for your home solar DIY projects? The amount of power that you need may limit your options, especially if you're trying to power something big. There is always the option to wire a few smaller panels together, just don't forget that the way you connect them makes a difference in the power output and could affect your project if done incorrectly.
Bottom Line
Mini solar panels are a great way to take advantage of free solar power for all your smaller electrical needs. These panels can be used for all kinds of small solar projects from patio lighting and emergency radios to electrical science projects and homemade toys. The great thing about mini solar panels is that they come in all different sizes, so no matter whether you're powering a toy boxcar or a four-wheeler, there is a mini solar panel out there that will get the job done.
Though you can't go wrong with any of our top picks, we would recommend the SunnyTech 2W Solar Panel.
Top 4 Best Mini Solar Panels of 2021