Pristine landscaping can be a serious hobby for some, but for most of us, it's more of a chore. Constantly keeping the grass under control can take a lot of time and effort. Why not skip the effort and switch to a robotic lawn mower? A robotic lawn mower may sound futuristic and complicated, but they're actually quite simple to set up and even easier to use. Not only that, but they are energy efficient and emissions-free, meaning they're better for you and the environment.
The one slight drawback to robotic lawn mowers is that they can be expensive, so this isn't a purchase you would want to make without the proper research. Luckily, we've done the research so you can skip the difficult part and go straight to choosing your new mower. We've compiled a list of our top five favorite automatic mowers so you can see what's available. We've also put together some useful information to help you choose the best robotic lawn mower for your lawn.
If you aren't ready for a robotic lawn mower, we also compiled a list of the best electric lawn mowers.
Top 4 Best Robotic Lawn Mowers of 2021
---
Reviews Of The Best Robotic Lawn Mowers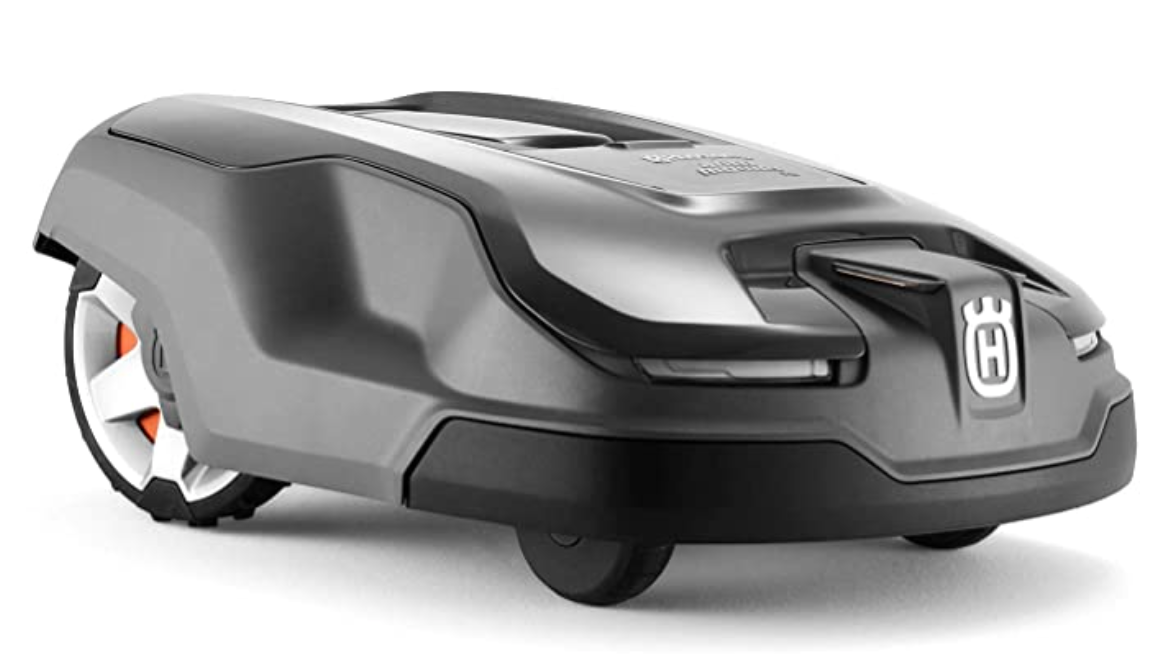 Quick Look: Smart robotic lawn mower. Built-in GPS navigation and theft tracking. Controllable through smartphone, smartwatch, or smart home hub. Installation included. Capable of handling lawns up to 0.4 acres.
Check Price at Amazon
Anyone who owns power tools or heavy-duty lawn equipment is familiar with the name Husqvarna. Husqvarna is known for their quality machinery, and this mower is no exception. With features like automatic charging, GPS navigation, and remote controlling, the Husqvarna 315X comes with all the features you need to keep your small or medium lawn in tip-top shape.
You can use your smartphone or smartwatch as well as your Alexa or Google smart home hub to control your mower at any time, day or night. The electric motor is ultra-quiet so you can schedule your mower to run at night and never worry about disturbing your family or neighbors.
Attached to that quiet motor are three high-quality blades that cut your grass into tiny pieces, meaning you never have to worry about bagging lawn clippings. Best of all, installation is included in the price of the mower, so you won't even have to install the guidewires yourself. All you have to do is download the Husqvarna app and start enjoying effortless lawn care.
Learn More and Buy Now at Amazon
---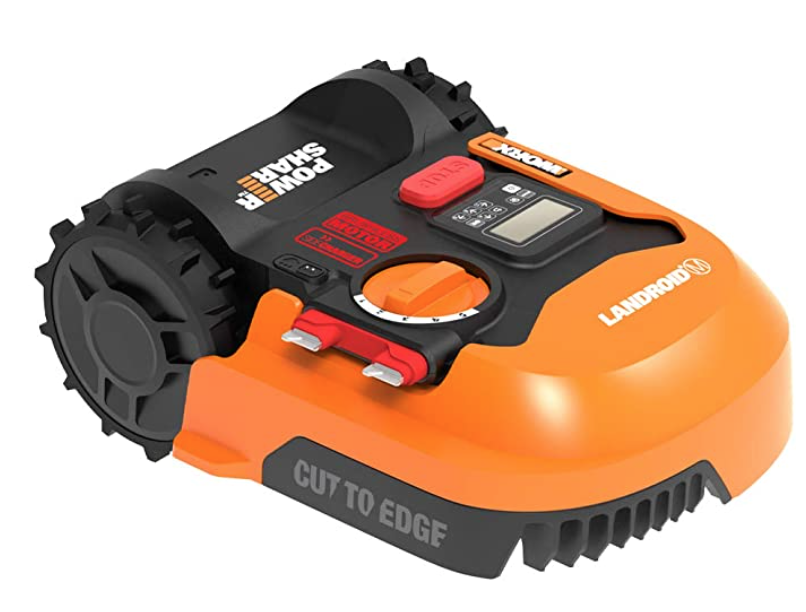 Quick Look: Smart robotic lawn mower that can be controlled via the Landroid App. Mows up to ¼ acre. Comes with a 30-day guarantee and a 3-year warranty.
Check Price at Amazon
Ready to step into the future of lawn care, but worried about your budget? Then check out the Landroid M from Worx. This budget-friendly robotic lawn mower comes with all the features you want without the hefty price tag.
Simply install the included guidewire, measure your yard with the Landroid app, and the mower does the rest. You can use the app to set up a unique mowing schedule or you can use the suggested schedule that the app will generate based on your lawn's size.
This mower is water-resistant and comes with a rain sensor that will send the mower back to the charging base if it starts to rain. The Landroid M also has automatic charging, so as soon as the battery starts to run low, the mower will head back for a charge. The 20V is compatible with all of Worx's other 20V Power Share lawn tools, so if you already have Worx equipment, this handy little robot will fit right in.
Learn More and Buy Now at Amazon
---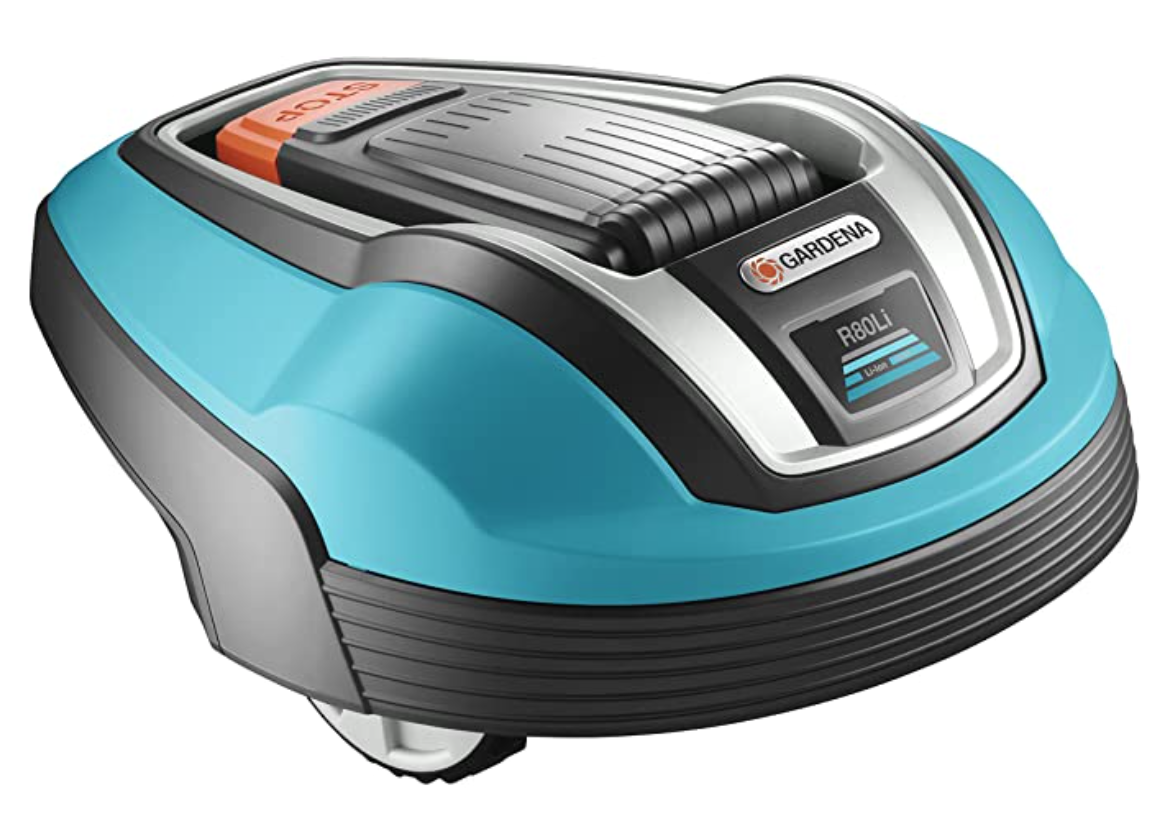 Quick Look: Robotic lawn mower with automatic charging. Comes with built-in obstacle sensor. Water-resistant. Built-in anti-theft pin and alarm. Easy to install and control.
Check Price at Amazon
The best thing about automatic mowers is that you can just set them and forget them. This model from Gardena is the perfect example of how easy that can be. Simply install the guidewire around the border of your lawn, set your desired cut height, and let it loose. Your lawn will be perfectly trimmed from then on.
This mower will keep your lawn looking smooth and tidy by mowing in a random pattern that won't leave lines or marks in the grass. The razor-like internal blades trim the grass into such fine pieces that you won't even see grass clippings. Your lawn will look lush and smooth and you won't have to lift a finger.
This mower has many great safety features, but one of the best is automatic obstacle detection. If the mower encounters an obstacle, such as a person or pet, it will harmlessly bump into it and then turn and continue in a different direction. The blades are fully enclosed, so there is no fear of your furry friends ever being harmed. Another great safety feature is the anti-theft pin which guarantees that you are the only one who can start your mower.
Learn More and Buy Now at Amazon
---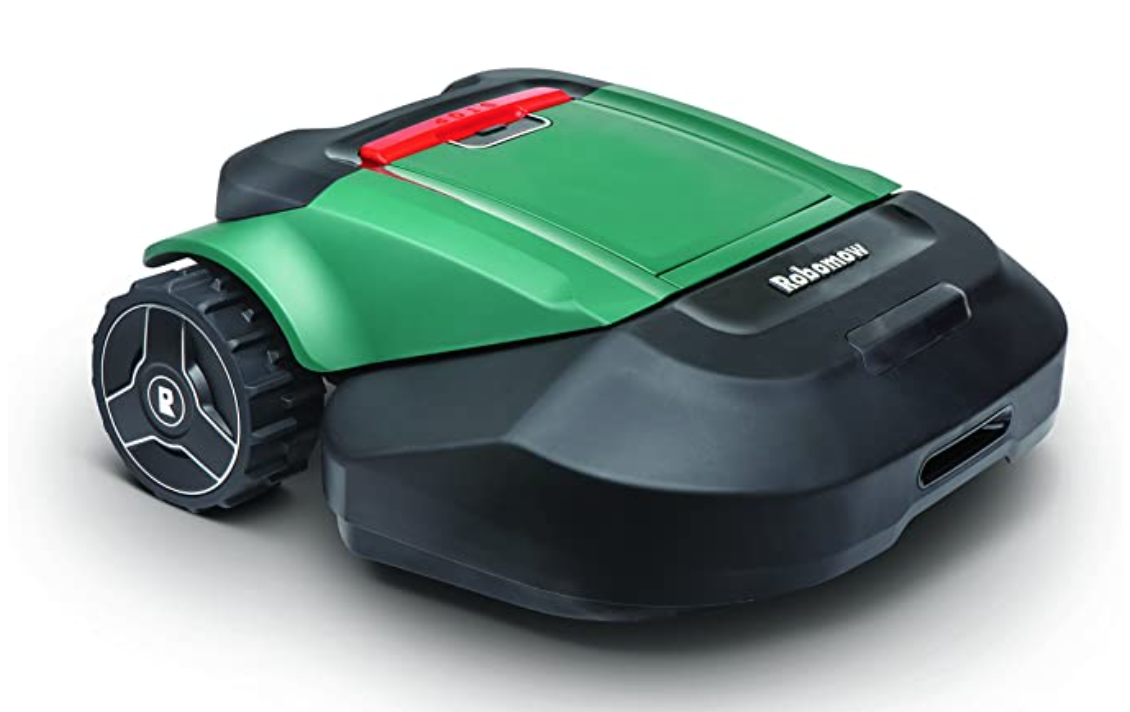 Quick Look: Smart lawn mower with Bluetooth and Wi-Fi connectivity. Controllable via smartphone or smart home hub. Wide 22" cutting path, capable of handling large lawns. Includes rain sensor, anti-theft technology, and quality safety features. Comes with a 1-year warranty.
Check Price at Amazon
You might be thinking that your lawn is too big for a robotic lawn mower, but you may want to think again. The Robomow RS630 is capable of mowing ¾ acre on a single charge and can be set to mow the lawn in sections, so no matter how big your yard is, the Robomow can handle it.
The 22" cutting path and hill-climbing capabilities make this the perfect choice for those with wide-open spaces to maintain. You can use the Robomow app to adjust mowing schedules, set mowing zones, and adjust the settings at any time. The Robomow is also compatible with your Alexa or Google smart home hub, so you can control it with voice commands as well.
This mower also comes with all the safety features you need to maintain your peace of mind. Not only are the blades enclosed, but the unit will automatically shut off if it is lifted or tilted. It also comes with an anti-theft security code to ensure that your lawn mower is only operational when you want it to be.
Learn More and Buy Now at Amazon
---
How We Chose The Best Robotic Lawn Mowers
Robotic lawn mowers may still seem a bit outlandish to some, but they're gaining popularity. The increased popularity means increased production, so there are a lot of models to choose from. In our search for the best models, we chose to focus on a few key criteria that can make all the difference.
Safety Features
No matter what kind of lawn equipment you're looking at, safety should always be your first consideration. That is why we chose mowers that came with all the appropriate safety features such as blade guards and automatic shut off sensors.
Quality Materials
These units are meant to be left outside all season long, so we looked for models that were built to last through all kinds of weather. All of the mowers on our list are waterproof and weather-resistant. We also looked for models that came with lithium-ion batteries which are long-lasting and more damage-resistant when it comes to fluctuating temperatures and constant charging. As we mentioned in the beginning, these mowers are not cheap, so we looked for units that were worth investing in.
Ease of Use
Since convenience is one of the biggest reasons people choose robotic mowers, we knew we needed to look for models that were easy to install and easy to use. All of the units on our list come with easy to follow installation instructions that will have you enjoying your newly mowed lawn in no time.
All of these units are easy to operate as well. Whether you choose a Bluetooth model or one with manual controls, you won't have to worry about any confusing directions. Simply set your mowing schedule and let the mower do the rest.
What You Need To Know About Robotic Mowers
Automatic lawn mowers are fairly straightforward, but there are a few things you may like to know before you make your final purchase.
How Robotic Mowers Work
If you're new robotic mowers, you may be wondering how they work without driving right out of your yard. It's actually quite simple. They function using a guidewire and internal sensors. The wire is installed around the parameter of the area that you want to mow. Don't worry, you don't have to dig a giant trench. The wire is staked down, almost like a tent, but much closer to the ground so as not to create a tripping hazard. Once the wire is installed, the mower will drive on until it encounters a wire at which point it will turn and go a different direction. The wire also works as a kind of map that leads the mower back to the docking station when mowing is complete or when it's time to recharge.
It is important to ensure that the guidewire is installed fully and properly before your turn on your mower, otherwise, you could end up with a runaway lawn mower.
Smart Versus Manual
There are two main types of robotic lawn mower: smart mowers and manual mowers. As you can guess, the smart mowers are Bluetooth and Wi-Fi compatible, allowing you to control and adjust the mowing schedule via your smartphone or smart home hub. The manual version is controlled by a control panel directly on the mower. Both types share many similar features, but the main difference is that smart mowers offer slightly more control and the ease of being able to control everything from your phone.
Rainy Days
Most quality robotic lawn mowers are weather-resistant, meaning that you can leave them out in the rain without fear of water damage. The being said, we all know the problems that come from trying to cut wet grass. At best, the grass is too pliable and will bend instead of being cut, leaving you with tall uncut grass. At worst, the wet cut grass can gum up the blade and clog up your mower.
For these reasons, it is best not to leave your mower running when it is raining or when the grass is still very wet. Some automatic mowers come with weather sensors that will send the mower back to the docking station if it starts to rain, but not all. Be sure to double-check the specifications for this feature if you live in a rainy area or plan on leaving your mower on while you're away from home.
Hills
Hills can be a challenge no matter what type of lawn mower you have, but they can be particularly troublesome with robotic lawn mowers. Most of these mowers are designed to handle slight inclines, such as 15 to 20 degrees, but not much more than that. If your yard has steeper areas that you need to mow, you will want to look for a more advanced model that has the engine power to conquer the inclines.
How to Choose The Best Robotic Lawn Mower For You
Now that you know how these mowers work and what their main features are, it's time to find the best robotic lawn mower for your lawn.
Lawn Size
The first thing you have to do is determine how much ground you need to cover. You may own an acre, but only need to mow half or a third of that. Some quick measurements of the area will help you determine what size mower to purchase.
Choosing the right size mower is important for a couple of reasons. Firstly, these mowers come with installation kits that contain enough guidewire to surround the specified area. If the kit is too small, you'll have to buy extra wire and stakes. Secondly, if your mower is too small it won't have enough power to maintain your lawn properly. It is better to go a little too big than too small.
Features
Once you know what size mower you need, it's time to talk about features.
The first features to consider are the necessary ones, such as safety features, incline capabilities, and maneuverability. As we mentioned earlier, safety is paramount. So be sure to choose a model that has all the safety features you need to fit your situation. In terms of incline capabilities, if your yard is particularly hilly, you'll want to look for a mower that can handle it. If your lawn has more obstacles than hills, you'll want to look for a compact model that offers high maneuverability.
Next, you need to decide whether you want to control your mower from a smart device or manual controls. How much control do you want to have over the daily operations of your mower? With voice and app control, you can adjust the mower's settings at any moment. If you want something less involved, then you can choose one of the manual versions that you can just set and forget. This part of the decision is all a matter of preference. There isn't a large price difference between the smart units and the manual units, there are budget-friendly and more extravagant versions of both, so it's just a matter of what works best for you.
Bottom Line
The big tagline for robotic mowers is that they allow you to reclaim your weekend by permanently removing mowing from your to-do list. Whether you're trying to reclaim your weekends or you just like having the most up-to-date tools, robotic mowers are a great choice. They're quieter, safer, and much better for the environment than traditional gas-powered mowers, making them an obvious choice for anyone who wants to up their lawn care game.
Top 4 Best Robotic Lawn Mowers of 2021