If you are reading this article it means that you are considering buying an electric lawn mower. With an electric lawn mower, you never have to worry about fuel, extra maintenance, or difficult starts. These mowers also create less noise and air pollution, so they are better for your health and the health of the environment as well.
Like most lawn tools, electric-powered lawn mowers come in a variety of sizes and offer different features, depending on the style and brand you choose. Although there are lots to choose from, we have compiled a list of our favorites to show you what is available.
Top 5 Best Electric Lawn Mowers of 2021
---
Reviews of the Best Electric Lawn Mowers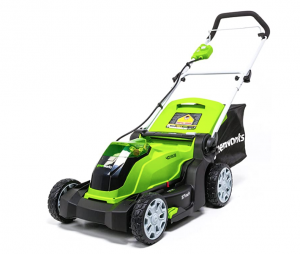 Quick Look: Push-Button start, 40v motor, foldable handle, and 60-minute battery life. Comes with a 4-year warranty.
Check Price at Amazon
The Greenworks 17 inch Cordless Mower has all the features you would want on an electric mower. The 40v motor gives you the power you need to cut through all types of grass with ease while the lightweight compact design makes use and storage a breeze.
Greenworks designed this mower to adjust to your needs. It offers rear bagging and mulching with an easy to remove and empty collection bag. It also has five different height settings, ranging from 1 ¼" to 3 ⅜". You can easily set your height preference with the use of a single lever.
The 7" front wheels and 8" rear wheels offer max maneuverability. The simple push-button start and comfort-grip handle make this mower both simple and comfortable to use. The handle also folds down completely when not in use for easy storage.
The lithium-ion battery on this mower lasts about 60 minutes on a single charge, making this a great option for medium-sized yards. This mower is part of the Greenworks 40v family, so if you already own a few Greenworks 40v batteries, you can purchase this mower without the battery and charger and save a little money.
Learn More and Buy Now at Amazon
---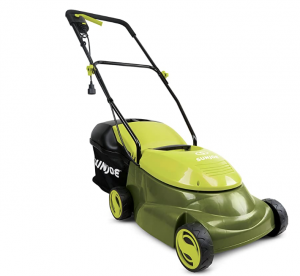 Quick Look: Super lightweight corded mower with a 13amp motor. 14" cutting path with three height settings. Comes with a 2-year, no questions asked warranty.
Check Price at Amazon
If you have a small yard and are looking for an ultra-simple lightweight mower, then the Sun Joe MJ401E-PRO Corded Mower should be perfect for you. This mower has a 14" cutting path, making it perfect for getting into those tight areas. It also has three height settings to adjust to your preference.
The easy push-button start gives you the ease of use you want while the 13amp motor gives you the power you need. Weighing only 30lb, this mower is easy to maneuver and operate, making it perfect for those who need lighter equipment.
This mower comes with a hard-top 10.6 gal rear collection bag that is easy to detach and empty. It also comes with a discharge chute that safely discharges mowing debris without clogging up the deck, even when cutting longer or thicker grass.
Learn More and Buy Now at Amazon
---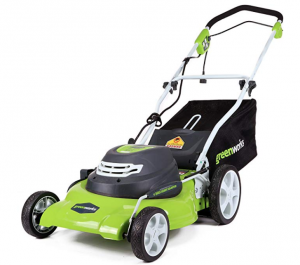 Quick Look: Corded mower with 20" steel deck. Easily adjustable height settings, foldable handle, and 12amp motor. Comes with a 4-year warranty.
Check Price at Amazon
Looking for a corded mower, but need something a little bigger? Then check out the Greenworks 20 inch 3-in-1 Corded Mower. It has a 20" wide cutting path, so you can get your lawn done in no time. It also comes with seven different height settings, ranging from 1 ½" to 3 ¾", perfect for all grass types.
The durable steel deck, 10" rear wheels, and 7" front wheels make this mower a solid choice for any homeowner, even if the terrain in your yard is a little challenging. The foldable handle offers compact storage, giving you extra room in the garage.
This model is a 3-in-1, meaning that it offers side-discharge, mulching, and rear discharge, giving you the options you need to get your yard into ship shape. This model is a great choice for those with small to medium-sized lawns.
Learn More and Buy Now at Amazon
---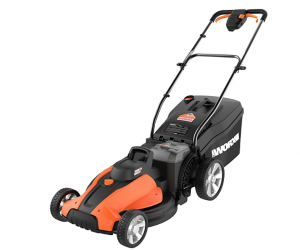 Quick Look: Lightweight, 40v motor, 17" cutting path, and multiple height settings. Patented Intellicut Technology. Comes with a 3-year warranty.
Check Price at Amazon
The Worx WG744 Cordless 40v Mower is the perfect middle-ground option for those who are looking for a quality electric mower that won't break the bank. Worx designed this mower to have all the features you need plus a couple extra, just for good measure.
The 17" cutting path means you can get your lawn mowed quickly, but still get into those harder to reach spots. The single-handle adjustment for height settings means that you can choose the cutting height you want with ease.
With patented Intellicut Technology, this mower gives you extra torque when you need it and preserves energy when you don't. This mower also comes with an external bag-full indicator so you know as soon as it is time to empty the collection bag.
This mower comes with two 20v lithium-ion batteries that produce 40v of power so you can cut through even the toughest grass. The easy to read battery-life indicator lets you know when the power is running low so you will not experience any unexpected stops.
Learn More and Buy Now at Amazon
---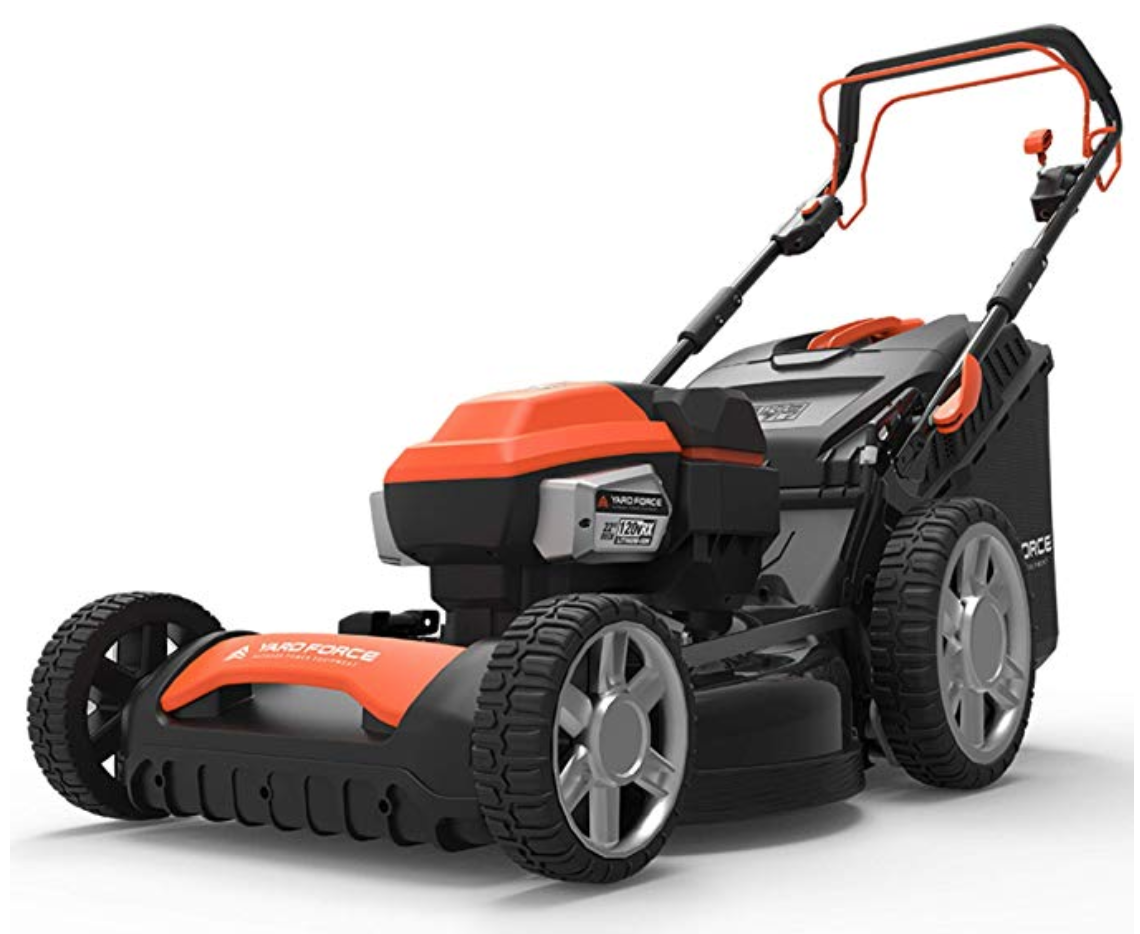 Quick Look: Super heavy-duty mower with a 120v motor. Multiple cutting heights, high-capacity collection bag, and steel deck. Self-propelled with speed adjustable drive. Comes with a 5-year warranty.
Check Price at Amazon
Are you looking for a powerful mower that is comparable with your classic gas-powered model? Well, look no further than the Yard Force 22 inch 3-in-1 Cordless Mower. This mower comes with a 120v motor that can power through even the toughest grass and weeds. It comes with two batteries that, when fully charged, give you 100 minutes of cutting time.
This is a great model for those with hilly or sloped lawns since it is self-propelled. It also offers speed adjustments right at your fingertips with a simple lever located on the mower's handle. This gives you all the control to need to achieve a smooth cut, no matter how uneven your lawn is. It also comes with torque-sense technology which automatically detects when you need more torque to power through those tougher areas.
You can easily switch between mulching, side-discharge, or rear collection on this model. It comes with a high-capacity collection bag that is easy to remove and replace. It also comes with an easy to use lever for switching between the seven different height settings.
This is a serious heavy-duty mower for those with bigger lawns. It is in a higher price range than our other picks, but if you need extreme power and durability, then the extra investment would be worth it.
Learn More and Buy Now at Amazon
---
How We Chose The Best Electric Lawn Mowers
There are a wide variety of great electric lawnmowers out there, so how did we choose the best ones? We looked for some simple specifications that make for great quality, no matter what size mower you need. This made it possible for us to show you a variety of sizes and styles so you can find one that fits your needs. The three things we looked for in our search for the best electric lawn mower were power, flexibility, and ease of use.
Power
Even if you only need a small mower to clean up a few patches around your lawn, you still want a mower that will get the job done the first time. That is why we chose mowers with motors powerful enough to cut through all grass types the first time around, so you don't ever have to repeat your work.
Durability and Flexibility
Whenever you are investing in a bigger tool, you want to ensure that that tool will last. That is why we chose high-quality models with good warranties. We also chose models that would adjust to your mowing needs both now and in the future. Choosing a mower with high power and a variety of cutting heights means that if you move, your mower can move with you.
Ease of Use
The best thing about electric lawn mowers is that they are almost all extremely easy to use, but we looked for the little extra features that make a difference like battery power indicators, foldable handles, and easy height changes. Sometimes it's those little details that change an irritating chore into an easy to complete project.
What You Need to Know About Electric Mowers
Just in case you are not already convinced that an electric mower is a good idea, let's take a quick look at the benefits of choosing electric as well as doing a quick review of the two standard styles of electric mower: corded and cordless.
Benefits of Choosing Electric
Every electric-powered tool comes with the benefits of being better for you and the environment and mowers are no different. Not only are electric motors much quieter, but they are also emissions-free. Better for your ears, your lungs, and the world around you. They are also better for your wallet. The prices of the mowers themselves may be comparable to gas-powered, but the cost to run and maintain an electric mower is significantly less.
Not only that, but electric mowers are much lower maintenance than gas-powered mowers. You never have to worry about oil, gasoline, spark plugs, air filters, or clogged carburetors. No more having to worry about wasting gas because it sat in the gas can all winter or having to tune up your mower in the spring. All you have to worry about with an electric mower is keeping the blade sharp. As long as the blade is well-maintained, all you have to do is plug it in and away you go. Speaking of that, when you do go to start your mower, all you have to do is press the start button. No more priming or pull-cords, just press go and mow.
Corded
Now that you know the benefits of going electric you just have to decide if you want a corded or a cordless mower. As you can probably guess, corded mowers have to be plugged into an electrical outlet which means you will only be able to go as far as your extension cord will reach. Corded mowers are the perfect choice for those with small lawns who do not need a large mower. The main benefit of corded mowers is that you have unlimited power, you never have to worry about preemptively recharging batteries or having your mower stop before you are done. Another added benefit is that corded mowers are less expensive, so a great choice for those on a budget.
Cordless
Cordless is the best option for those who want to go electric, but do not want to be tied down by the extension cord. As previously mentioned, using battery power does take some planning because you have to be sure to charge the batteries before you get started, but that isn't a problem for most people. The main benefit of choosing battery power is that your mower is just as portable as a gas mower, if not more so since transporting an electric mower is much safer. These mowers are better for bigger lawns that would be too difficult to navigate with an extension cord following you around.
How to Choose The Right Electric Lawn Mower
Alright, now for the personal stuff. The main things that you should consider when choosing the best mower for you are size, price, and features.
Size
The size you choose is solely based on the size and shape of your lawn. If you have a small yard with tight areas, then you would want to choose a narrow mower with good maneuverability. If you have a bigger yard with fewer obstacles then you should choose a mower with a wider cut path so that you can get the job done quickly and efficiently.
Price
Price is an important element with every big purchase, but especially when it comes to tools. Although the old adage, "You get what you pay for" still holds true in many situations, you do not have to spend a lot of money to get a quality electric mower. Most of our favorite mowers fall into a very reasonable price range, so if you have a limited budget, do not despair. But remember, you do not want to limit yourself either. If you buy a mower that is too small for your lawn just because it's cheaper, you may find yourself having to spend extra money to buy a bigger one in the near future. The best way to go is to determine the size that you need for your lawn, then look for a model of that size that is within your budget.
Features
This part of the decision-making process is all for your convenience. Perhaps you aren't too worried about having a foldable handle, but you would like to know when the collection bag is full without having to check it every 15 minutes. Or perhaps you want to be able to easily switch between cutting heights because you have multiple lawns to mow. Simply consider all the features that we have mentioned and then determine which would be the most beneficial to your style.
Bottom Line
Electric lawnmowers are a great choice for anyone looking for a less expensive, more eco-friendly way to keep their lawn looking good. Nearly all electric lawn mowers are ultra user-friendly, making your decision ultra-easy. It's hard to go wrong with any of our top electric lawn mower picks, but we recommend the Greenworks 17″ Cordless Mower for their power, durability and performance. Compare all of your options before making a final decision, though, to make sure that you're choosing the right model for your circumstances.
Top 5 Best Electric Lawn Mowers of 2021