Having a fitness tracker can be a great way to record your progress on your fitness journey as well as have some accountability for your daily activity levels. Fitness trackers can help you to keep track of your daily steps, calories burned, overall heart rate, and even your sleep patterns. There are many benefits to wearing a fitness tracker, especially if you have specific fitness goals that you're trying to reach.
To take advantage of all these benefits, you have to make sure you are choosing the right fitness tracker for you. To help you choose among the thousands of amazing fitness trackers available today, we have done some research and compiled the information you need. First, let's take a look at a list of some of the best fitness trackers of 2021, then we'll discuss what you should look for in a quality fitness tracker.
Top 4 Best Fitness Trackers of 2021
---
Reviews of the Best Fitness Trackers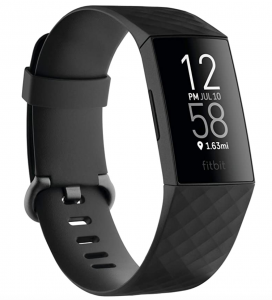 Quick Look: Built-in GPS, Active Zone notifications, and Sleep Tracking. Receives call and text notifications. Compatible with Spotify. Tracks more than 20 exercises, including swimming.
Check Price at Amazon
As the biggest name in fitness trackers, Fitbit has a lot to live up to every time they release a new fitness tracker. Thankfully, their newest addition, the Fitbit Charge 4, does not disappoint. It comes with all the main fitness tracking features you would expect, plus some helpful extras.
Along with tracking your steps, distance, and heart rate, the Charge 4 uses its built-in GPS to track your pace while mapping out your progress. When you're done, you can review a map of your run that shows your pace throughout your exercise. This tracker also comes with Active Zone notifications which alert you when your heart rate is within your goal range.
You can use the Fitbit app to track all your health stats like daily and monthly activity rates, water intake, sleep patterns, and even feminine health. With a long-lasting battery that can last up to 7 days on a single charge, you never have to worry about missing a minute. Fitbit designed this fitness tracker to go everywhere you go and to work as hard as you do.
Learn More and Buy Now at Amazon
---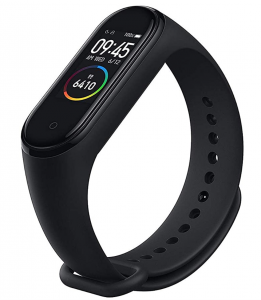 Quick Look: AMOLED color display. Tracks steps, distance, and calories. Swim-proof. Tracks sleep patterns. Receives text and call notifications. Battery lasts up to 20-days.
Check Price at Amazon
If you are ready to start tracking your fitness progress but don't want to break the bank doing it, then check out this budget-friendly option from Xiaomi. The Xiaomi Mi Band 4 will help you track your steps, the distance you've gone, and the calories you've burned along the way.
Some fitness trackers come with dim screens that are almost impossible to see in bright sunlight. With this tracker, you will always be able to see the time and your progress, no matter how bright or dark your surroundings. With a vibrant AMOLED color screen, the Mi Band 4 shows you the time and your steps at a glance.
You can use this fitness tracker to record all your fitness activities including walking, running, cardio, swimming, and more. You also don't have to worry about missing texts or calls if you leave your phone in the other room. This watch will instantly notify you whenever someone is trying to contact you.
Learn More and Buy Now at Amazon
---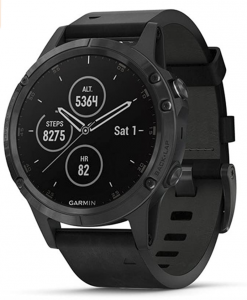 Quick Look: Color display with TOPO maps that show popular routes. Built-in GPS. Rugged design. Phone free options. Compatible with Garmin Pay.
Check Price at Amazon
If you are ready to take your outdoor fitness routine to the next level, then this smartwatch from Garmin is going to be your new best friend. The Garmin Fenix 5 works with multiple navigation systems including a 3-axis compass, gyroscope, and barometric altimeter. It also uses multiple satellite systems along with GPS so that you always know where you are and where you're going.
The multisport rugged design means that you can wear this watch during every activity without fear of it breaking or wearing out. The battery is designed to last up to 10 days in smartwatch mode and up to 8 hours in full GPS mode. The watch face is also fully customizable, so you can display the stats that are most important to you.
Want to go for a run without having to drag your phone along? No problem. The Fēnix can hold up to 500 of your favorite songs. Simply connect your Bluetooth headphones to your watch and hit the road, no phone required.
Learn More and Buy Now at Amazon
---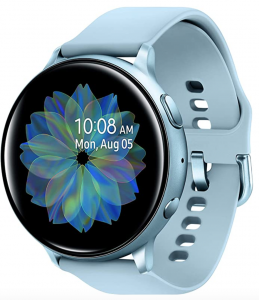 Quick Look: Lightweight stylish design. Tracks daily fitness and exercise. Offers activity insights. Sleep tracker. Compatible with Samsung Pay. Up to 5-day battery life.
Check Price at Amazon
Finding a fitness tracker that looks good both at the gym and in a professional setting used to be a struggle, but that is no longer an issue. The Samsung Galaxy Active2 comes in multiple stylish designs meaning that you're sure to find a model that matches your everyday style.
Do not let the pretty packaging fool you into thinking that this is a fitness tracker for lightweights. The Active2 can track all of your fitness activities with ease. Not only can it track your workouts like running and swimming, but it also offers activity insights. This tracks your pace and then provides notifications if you need to speed up, slow down, or moderate your pace.
This smartwatch can receive call and text notifications and is also compatible with Samsung Pay. If your hands are full and you need to check something on your watch, it is also compatible with Bixby for voice commands. The battery is designed to last up to 5 days per charge and is also compatible with power share.
Learn More and Buy Now at Amazon
---
How We Chose The Best Fitness Trackers
With thousands of models to choose from, finding the best fitness trackers was a bit of a challenge. To narrow our search we focused on a few key elements including fitness features, quality materials, and ease of use.
Fitness Features
Most fitness trackers boast myriads of features that are cool but may not be necessary. With that in mind, we looked for trackers that had features that were the most likely to be truly helpful for all fitness enthusiasts. Of course, there are situations where you need a little more than the basics, so we chose products that were versatile enough to help fitness beginners, but still keep up with lifelong athletes.
Quality Materials
Most people purchase fitness trackers because they want to keep track of their activities throughout their entire day and even into the night. That is only possible if the tracker is made out of quality materials that can withstand the wear and tear of everyday life. That is why we looked for fitness trackers that could track your activity day and night, rain or shine. Features like water resistance and long-lasting batteries are a few of the things that pushed these models to the top of our list.
Ease of Use
Your fitness tracker should always help you, not hinder you, so we chose models that were easy to use and that would make your workout routine easier. Features like automatic exercise tracking and activity insight notifications will help you to stay on track and meet your goals with ease. Phone-free options help you to experience more hassle-free workouts. We can all use a little encouragement now and then, so we chose fitness trackers that would track all of your activities so that you can have a full picture of how well you're doing.
What You Need To Know About Fitness Trackers
Although the basic features of a fitness tracker are pretty straight forward, there are a few things you should know before you make your choice.
Smart Watch Versus Fitness Tracker
You will often find that people use the terms "Fitness Tracker" and "Smartwatch" synonymously, but there are a few differences. It is safe to say that all smartwatches are fitness trackers, but not all fitness trackers are smartwatches.
Smartwatches
Smartwatches can track your activities, but also interact with your phone for entertainment or communication purposes. This is a great option for those who want to use their watch for more than tracking their fitness goals. Some models offer the option to make calls and answer texts, play music, receive calendar notifications, and more. Since smartwatches have more features, they are usually more expensive and require more frequent charging.
Fitness Trackers
Fitness trackers usually provide call and text notifications, but they won't allow you to make calls, access your apps, or upload music. This may sound a little limiting, but if your main goal is to track your daily activities, choosing a basic fitness tracker may save you a lot of money. Fitness trackers also have longer battery life, some lasting a week to 10 days between charges.
Phone-free Options
One big thing to consider when looking into purchasing a fitness tracker is whether it functions with a built-in GPS or if it requires a Bluetooth connection with your phone. With built-in GPS, the tracker itself records your location, distance, and speed. If it functions with Bluetooth, it is using the GPS on your phone to track your movements. Many people are used to taking their phones along while running or biking, so continuing to do so is no inconvenience. But, if you want the ease of being able to leave your phone at home, choose a model with built-in GPS.
Fitness Versus Health Features
Although these are called fitness trackers, many of them could also be considered health trackers because they allow you to keep track of more than just your physical activities. Companies like Fitbit and Apple have created apps to go with their fitness trackers that allow you to track everything from your water intake to your stress levels. Most fitness trackers now include heart rate monitoring and sleep tracking as well. These are meant to be in-depth records of your daily health and activity levels. Most fitness trackers will have similar features when it comes to activity tracking, but if you are looking for a way to keep tabs on your health and your fitness levels, then be sure to look for a fitness tracker that includes good health tracking features as well.
How to Choose The Best Fitness Tracker For You
Now we have reached the fun part! Now that you know all about fitness trackers, you can confidently choose the right one for you. Here are the key elements that you should consider before making your purchase.
Your Budget
The first step is to set your budget. Fitness trackers can range in price from $20 to $700, so it is important to determine how much you want to spend from the very beginning. Having a set budget from the start will narrow your search and ensure that you don't suffer from buyers' remorse later. There are many great options for less than $100. Just keep in mind that more features usually means more expensive, so you may have to pay a bit more if you're looking for a smartwatch version. Also, take into consideration that some companies like Fitbit and Apple require a monthly subscription to access their more advanced features, so factor that into your budget as well.
Your Activities
Matching your fitness tracker to your activities is extremely important if you want to get the most out of your tracker. Now is the time to determine whether you want a regular fitness tracker or a smartwatch with fitness tracking capabilities. Consider what you are expecting to do with your tracker. Do you want to leave your phone behind when you go out for a run? Then a smartwatch with built-in GPS is a must. Are you just looking to track your fitness without all the extra bells and whistles? Then a regular fitness tracker is the way to go. This is all about your style and your needs. There is no reason for you to spend hundreds of dollars on features you won't use, so don't just choose the most popular model, look for a model that best suits you.
Your Style
Although it may seem inconsequential, it is very important to choose a tracker that matches your style. You are much more likely to wear your fitness tracker every day if it is comfortable and matches your everyday fashion. Thankfully, there are all different styles to choose from, from large faces with classy bands to slender models with rubber watch bands. Many models come in multiple colors and have interchangeable bands giving you even more options to choose from. Choose a style that you will be comfortable with whether you're on your way to the gym or headed to the office.
Bottom Line
Everyone knows how important it is to maintain a healthy and active lifestyle. The right fitness tracker can help you set and reach fitness goals through careful tracking and motivational rewards like breaking your speed records or beating your friends in step competitions.
It's hard to go wrong with any of our top fitness tracker options, but we recommend Fitbit Charge 4 for its fitness features and ease of use. Compare all of your options before making a final decision, though, to make sure that you're choosing the right model for your circumstances.
Top 4 Best Fitness Trackers of 2021