Water is an essential part of our everyday lives. Although we often use water without giving it much thought, there are times when keeping track of how much we use is extremely important. In times like these, you need a quality water flow meter. Water flow meters can be used in a variety of applications to help you keep track of how much water you're using and when you're using it.
These meters come in a variety of sizes and styles, so choosing one can sometimes be a challenge. Lucky for you, we've already done the required research. We've compiled a list of the top 5 best water flow meters on the market and put together some useful information that will help you choose the best water flow meter for your situation.
Top 5 Best Water Flow Meters of 2021
---
Reviews of the Best Water Flow Meters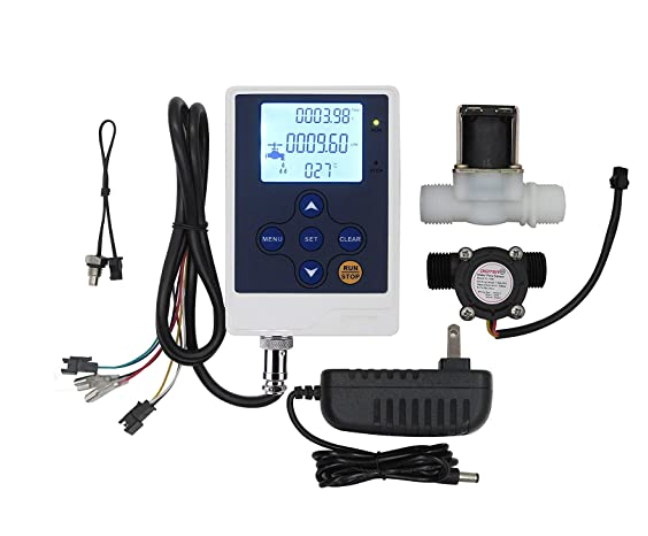 Quick Look: Comes with LCD controller, G1/2 inch flow sensor, G1/2 inch solenoid valve, temperature sensor, and all required wiring. Measures in both liters and gallons per minute. Measures and controls water flow. Comes with a 1-year warranty.
Check Price at Amazon
Whether you're measuring water for your sprinkler system, swimming pool, or water dispenser, this water flow meter from DIGITEN can do the job. It comes with an easy to read LCD screen that allows you to see water pressure, total water dispensed, and the water's temperature with just a glance.
Not only will this meter show you how much water you're using, but it can control your water use as well. It comes with a G1/2" solenoid valve that connects to the sensor. Simply enter the amount of water you want and the controller will automatically stop the flow and sound an alarm once the desired amount has been dispensed.
This unit comes with thorough instructions for simple installation. It does require a bit of plumbing, but it is worth the effort. It requires only 12V of power and can function in temperatures of 32 to 122℉.
Learn More and Buy Now at Amazon
---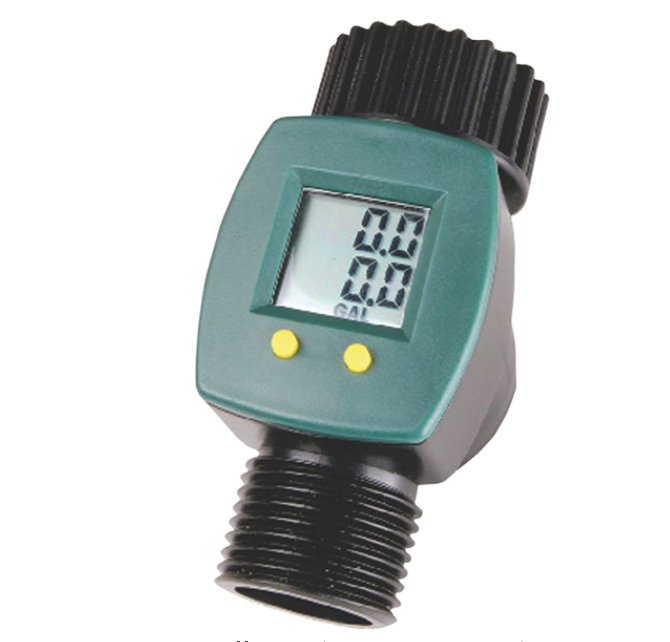 Quick Look: Easy to use, compact design. LCD display. Perfect for small gardens and RVs. Quality materials.
Check Price at Amazon
If you are looking for a simple way to monitor your water use, then this budget-friendly meter from Save A Drop is the perfect choice for you. This unit weighs only 3oz and takes mere seconds to install. Simply attach it to your faucet or hose and you're all set to go.
The easy to read LCD screen allows you to see how much water you're using at that moment as well as a cumulative quantity. It accurately measures to 1/10 of a gallon, so you never have to worry about overwatering the plants in your garden or greenhouse.
This is also a handy tool to have in your RV. You can easily fill freshwater tanks or rinse black water tanks without fear of over or under filling. You can also use this meter to keep track of how much of your clean water you've used so that you're never caught unawares with an empty tank.
Learn More and Buy Now at Amazon
---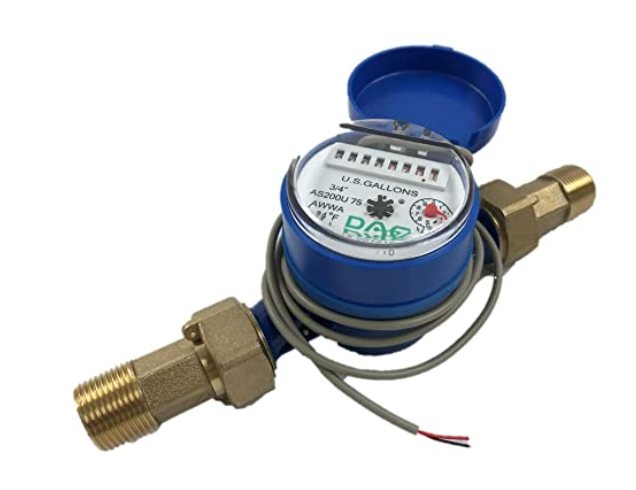 Quick Look: Heavy-duty bronze meter with NPT couplings. Comes in multiple sizes. Measures flow in gallons per minute. Includes Pulse Output for remote monitoring. Comes with a 2-year warranty.
Check Price at Amazon
This heavy-duty water flow meter from DAE is a great option for anyone who needs to monitor water usage for their home or rental. This meter is designed for indoor or outdoor use and can function in temperatures of up to 104℉. The meter itself comes in multiple sizes with couplings from ½" to 1-½" NPT.
The solid display comes with an eight-digit readout that measures down to 1/10 gallon. The readout is fully enclosed in an adjustable case that can be rotated for easier reading. The readout dial cannot be reset or tampered with, so you always know that your readings are accurate.
One of the best things about this meter is that it has pulse output and can be connected to an Auto Meter Reader (sold separately) for remote monitoring. You can monitor multiple water flow meters on a single DAE account, making this a good option for landlords.
Learn More and Buy Now at Amazon
---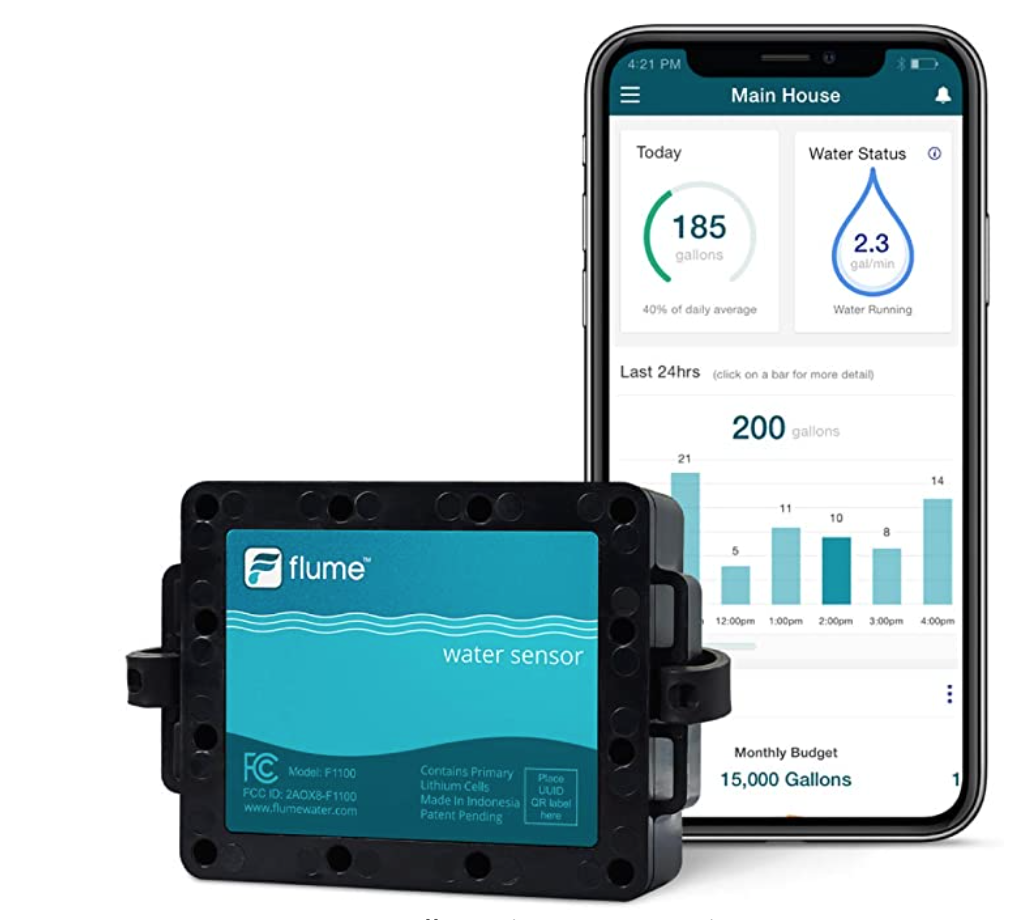 Quick Look: Easy installation, no plumbing required. Measures in gallons per minute. Offers remote monitoring. Comes with leak and over-usage detection. Compatible with Alexa.
Check Price at Amazon
If you have a traditional water flow meter on your home, but need something more advanced, then this smart meter from Flume should do the trick. This meter easily attaches to your current flow meter and allows you to monitor your water usage from your smartphone. It is compatible with 95% of traditional flow meters in the United States, but be sure to double-check that it will fit your meter before purchasing.
After the initial setup, which takes approximately five minutes, you'll be able to monitor your water usage in real-time. Over time, you'll be able to see when and how your water is being used, giving you the opportunity to make corrections and save some money on your next water bill. You can even use the Flume app to set up a water budget, so you can always stay within your desired range.
You can also connect this meter to your Alexa smart device to receive notifications through your home smart hub. Flume will alert you if a leak is detected or if excessive water is being used, so you can avoid any surprises.
Learn More and Buy Now at Amazon
---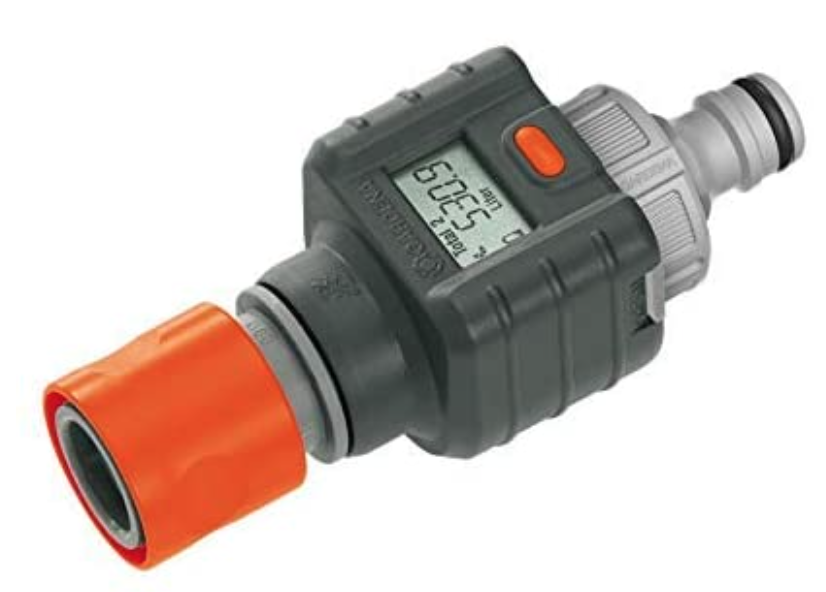 Quick Look: Battery-powered mini water flow meter for outdoor use. Measures in liters per minute. Fits all standard faucets and hoses for easy installation. Adaptors available. Comes with a 5-year warranty.
Check Price at Amazon
Keeping your lawn looking nice can require a fair amount of water. Make sure you're not overdoing it with this is easy to use water flow meter from Gardena. This handy little meter can easily be attached to your hose, outdoor faucet, sprinkler, or water pump, making water monitoring a breeze.
The vibrant digital display allows you to see cumulative totals for the season, watering cycle, day, or even just the current flow. The single button controls make it easy to scroll through and see your totals at a glance.
This meter may be small, but it is tough. It is impact-resistant and designed to last. It even comes with a 5-year warranty, showing that Gardena truly stands behind the quality of their products.
Learn More and Buy Now at Amazon
---
How We Chose The Best Water Flow Meters
Water flow meters are fairly simplistic, but they serve an important purpose. When it came to choosing the best models, we chose carefully. In our search, we chose to focus on these three elements: accuracy, quality materials, and ease of use.
Accuracy
The most important feature of any water flow meter is accuracy. There is no sense in purchasing a measuring device that doesn't measure properly. That is why we looked for meters that were well-calibrated and designed to measure as little as 1/10 gallon, some measuring as little as 1/10 liter. With any of the meters on our list, you can rest assured that your usage measurements will be spot on.
Quality Materials
The second most important feature of a water flow meter is quality, especially when it comes to permanent meters such as the DIGITEN Flow Meter. Since the majority of flow meters are meant to be used outdoors and in wet conditions, they have to be built to last. The last thing you want is to go through the effort of installing a flow meter only to be forced to replace it every couple of years. That is why we chose meters that were made with quality materials and designed to last through years of daily use.
Ease of Use
Last, but not least, we looked for meters that were easy to install and even easier to use. We understand that not everyone who needs a water flow meter is a master plumber. That is why we chose to feature a variety of options so that no matter how limited or advanced your plumbing skills are, there is an option here for you.
What You Need To Know About Water Flow Meters
If you're just beginning your research into water flow meters, you may be surprised by their wide range of applications. Here is a quick rundown of just a few of the many ways that you can use these meters to save water and, hopefully, save a little money on your next water bill.
Applications
When you think of water flow meters, you may only think of the ones used to measure household water usage, but they can be used for so much more. You can use one of these meters to ensure your sprinkler system isn't leaking or overwatering your lawn. Monitor the amount of water you put in your pool. Or easily keep track of the water levels in your RV water tanks. Some cities will give you a discount on your sewer bill if you can prove how much of your water usage goes into lawn care. How do you prove that? With a water flow meter.
If you own rental property, you can use a water flow meter with remote monitoring to keep tabs on how much water your renters are using as well as receive early alerts about any possible plumbing issues such as a leak or burst pipe. This is also a helpful feature for those who are away from home for long periods. A meter like the Flume Water Monitor can alert you as soon as a leak is detected, giving you the chance to deal with it right when it happens instead of coming home to a flood.
In many areas, careful water monitoring is important, both for your budget and for the environment. Water flow meters make it easier for you to know exactly how much water you're using, so you can adjust accordingly when necessary.
Clean Water Only
Some people use water flow meters for liquids other than clean water such as certain types of fuel or gray water. If you need a flow meter for something other than clean water, be sure to read the product specifications very carefully before making your purchase. Many of these meters are designed specifically for clean water only and are not able to withstand corrosive substances. They may give inaccurate readings or breakdown completely from misuse.
High-Pressure Situations
If you're using your water flow meter for something on a larger scale, such as a large irrigation system, you should be aware that some water flow meters can decrease water pressure. This is not typically an issue in regular household use because the average residential water pressure is already low enough that it isn't hampered by a regular flow meter. This is simply something to keep in mind if you're dealing with high water pressure on a grand scale.
How to Choose The Best Water Flow Meter For You
If you're reading this article, you may already have a basic idea of what type of meter you need, but just in case, here's some advice that may help you feel more confident in your decision.
Substance Over Style
Remember that the most important things to look for are accuracy and quality. Extra features may seem great, but they won't help you if the meter doesn't last. With that in mind, look for a brand that is reliable and built to last, then choose the model that fits your needs.
Know Your Flow
To determine what your needs are, you have to start with the basics such as knowing why you need a water meter. All water flow meters may have the same basic function, but they do not all function in the same way. Different situations require different types of meters, some being more specific than others.
Do you need to monitor water usage for your entire household? Then you'll want to choose a permanent meter that can be installed directly into your plumbing. If you only want to measure one specific area of usage, such as how much water you use in your greenhouse or sprinkler system, then a smaller, less integrated meter will probably do the trick.
Style And Features
As you can see from our list, there are several different styles of meters and each one comes with different features. Some are quite portable and can be used for multiple applications. For example, the Gardena Water Smart Flow is easy to install and can be used on hoses, faucets, and pumps. If you want to be able to measure water from different sources without having to buy multiple products, then this style will fit the bill.
If remote monitoring is what you need, then you'll want to choose a meter that can be connected to your Wi-Fi. These meters may be a bit more expensive, but the extra cost could actually save you money in the long run. And, as we mentioned earlier, this style of meter can also give you peace of mind when you're away from home which could in itself justify the extra cost.
Bottom Line
Water flow meters are simple tools that serve an important purpose. Whether you want to monitor your water usage for budgeting reasons or just to be more eco-friendly, a flow meter can help you do that with little to no effort on your part. All you have to do is install it and the meter will do all the measuring and math for you.
Choosing the best water flow meters may seem challenging at first, but once you know what to look for, the decision becomes an easy one. Simply consider the application and choose the style and features to match. Remember, look for a brand that guarantees accuracy and durability and you're sure to not regret your purchase. We hope this article has given you all the information you need to choose your new water flow meter with confidence.
Top 5 Best Water Flow Meters of 2021