Did you know that approximately 1 billion toothbrushes are thrown away every year and that the majority of them are plastic? We can't stop using toothbrushes, but we can decrease our excess plastic waste by switching to bamboo toothbrushes.
Bamboo toothbrushes have handles that are made from natural bamboo wood instead of plastic. Not only is bamboo an easily renewable resource, but it also breaks down easily and leaves no harmful residue in the soil or water. Just like regular toothbrushes, these are available in a multitude of brands and styles.
To help you make the switch to a more environmentally friendly toothbrush, we have done some research and compiled a list of our favorite bamboo toothbrushes. Go ahead and check out our picks and afterward we'll tell you all about how to choose the best bamboo toothbrushes for you and your family.
Top 5 Best Bamboo Toothbrushes of 2021
---
Reviews of the Best Bamboo Toothbrushes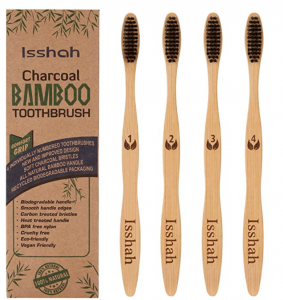 Quick Look: 100% Compostable bamboo handles with nylon bristles. Comes in adult and child size. Vegan and cruelty-free. Heat-treated, water-resistant. Comes in fully recyclable packaging.
Check Price at Amazon
Switching to eco-friendly products can be a challenge, but that is not the case with these quality toothbrushes from Isshah. The Isshah Bamboo Toothbrushes are made from responsibly sourced bamboo that is heat-treated to ensure that the handles are water-resistant and splinter-free. They come in a 4-pack for a very reasonable price, making the switch to bamboo even easier.
Whether you just need toothbrushes for yourself or if you need options for the whole family, Isshah has what you need. You can choose between adult size, child-size, or a family pack that includes both. If you are using them for the whole family, each toothbrush is numbered to ensure that everyone knows which toothbrush to reach for.
These toothbrushes are designed to work and feel just like a traditional toothbrush without all the harmful environmental effects. These are vegan-friendly and cruelty-free, plus they come in fully recyclable packaging, so this is a product that you can truly feel good about purchasing. The best part is that if you are not fully satisfied with your Isshah toothbrushes, they will give you a full refund.
Learn More and Buy Now at Amazon
---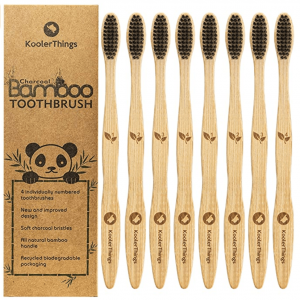 Quick Look: Smooth heat-treated handles and BPA-free nylon bristles. Bristles are carbon treated and anti-microbial. Narrow brush design with numbered handles.
Check Price at Amazon
If you are ready to switch to bamboo in a big way, check out this KoolerThings Bamboo Toothbrush 8-pack. These bamboo toothbrushes come with carbon-treated nylon bristles. The carbon helps to naturally whiten teeth while keeping your toothbrush germ-free.
These toothbrushes come in two packs of four brushes, each one is numbered to help keep you and your housemates from using the wrong toothbrush. The beautifully smooth bamboo handles are heat-treated to help them stay smooth and soft through months of use.
KoolerThings designed these brushes to offer you the best oral hygiene experience with soft bristles and a narrow brush head. The soft bristles allow you to clean your teeth without damaging your gums while the narrow brush head allows you to easily reach those hard to reach spots.
Learn More and Buy Now at Amazon
---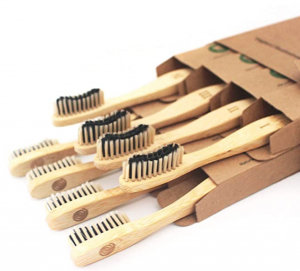 Quick Look: 100% bamboo handle with charcoal-infused bio-nylon bristles. Comes with soft or medium bristle options. Ergonomic olive oil infused handle. 100% recyclable.
Check Price at Amazon
Everyone wants to have a whiter brighter smile. With the Bamboozled Charcoal Bristle Bamboo Toothbrushes, you can do that and protect the earth at the same time. Made with charcoal infused bristles, these toothbrushes help to lift coffee, tea, and wine stains in a natural way, leaving you with a brighter smile.
The handle is made from 100% bamboo that is heat-treated to make it water-resistant. It is also infused with natural olive oil to ensure that it stays smooth and splinter-free. The ergonomic handle design makes this toothbrush comfortable to hold and easier to use.
Bamboozled designed these toothbrushes to be 100% earth-friendly. They come in completely recyclable packaging, the handles are compostable, and the bristles are recyclable. They are also vegan and made from sustainably sourced materials. What's not to love?
Learn More and Buy Now at Amazon
---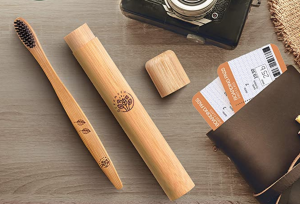 Quick Look: 100% biodegradable. Comes in 4-pack with bamboo traveling case. Includes natural mint and charcoal-infused dental floss. Money-back guarantee.
Check Price at Amazon
Finding travel-friendly accessories that are also earth-friendly is hard, but thanks to the Greenzla Bamboo Toothbrushes, it just got a lot easier. This 4-pack of bamboo toothbrushes comes with a leak-proof travel case that is also 100% bamboo and eco-friendly. This travel kit also includes some natural bamboo fiber dental floss that comes with a travel-friendly glass storage jar, so you can travel with ease and a good conscience.
These brushes are 100% biodegradable. They are made from sustainably-sourced bamboo wood and bamboo charcoal bristles. The included floss is made from mint and charcoal-infused bamboo fibers. All of Greenzla's products are made from 100% organic materials, even the packaging.
The traveling case is lightweight, naturally anti-bacterial, and semi-absorbent so you do not have to worry about moisture leaking into your luggage. There are also vents in the top and bottom of the case to allow airflow and further prevent bacteria growth.
Learn More and Buy Now at Amazon
---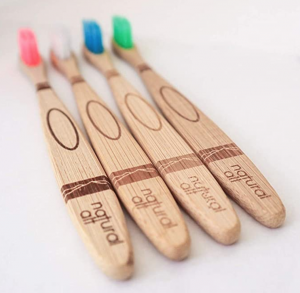 Quick Look: Soft bristles with smooth 100% bamboo handles. Fun crayon design with colorful bristles. Comes in a 4-pack. Child-friendly design. Recyclable packaging. Made in the USA.
Check Price at Amazon
Switching everyone in the family over to earth-friendly toothbrushes is easy with these fun Natural Alt Kids Bamboo Toothbrushes. These toothbrushes are specifically designed to be easy for kids to hold and use. The handles are made from smooth heat-treated bamboo that is water-resistant and splinter-free.
The crayon-themed design and colored bristles make it fun for your kids to choose their favorite color. The blank space on the front of the handle is the perfect spot for them to write their name so they can take ownership of their toothbrush.
Natural Alt wants to help you teach your children about the importance of going green. Each set of toothbrushes comes with a mini educational coloring book. The coloring book includes information about limiting plastic use and why using bamboo toothbrushes is so important. The coloring book and all the packaging is recyclable.
Learn More and Buy Now at Amazon
---
How We Chose The Best Bamboo Toothbrushes
There are thousands of options to choose from, so how did we choose the best bamboo toothbrushes? Simple, we focused on quality responsibly-sourced materials, budget-friendly prices, and ease of use.
Quality Materials
With the huge upswing of environmentally-friendly people, more and more eco-friendly companies are popping up. Sadly, not all of these companies are as environmentally friendly as they may seem on the surface. That is why we looked for products that were not only made from bamboo but made from responsibly-sourced materials.
We looked for companies that were vegan-friendly and cruelty-free. Although choosing biodegradable products is always a good idea, it is important to look for companies that create earth-friendly products in environmentally conscious ways. We also looked for products that were waste-free, such as those that came in recyclable packaging, because every little bit of plastic that can be avoided helps to improve the environment.
Budget-Friendly
Since they are made from natural materials, they recommend that you replace your bamboo toothbrush every three months. With that in mind, we looked for budget-friendly options that would help to make this a sustainable switch. One of the huge benefits of bamboo is that it is easy to grow and fairly inexpensive to produce which should translate into budget-friendly products. Most of our picks cost little to no more than their plastic counterparts.
Ease of Use
Okay, we know that there are only so many ways that you can use a toothbrush, but there are a few things that you have to consider when it comes to bamboo toothbrushes. Since the handles are made of wood, there is the potential for splitting and splintering. That is why we looked for toothbrushes that have heat-treated handles. Heat treating helps to keep the wood from splitting, even with continuous exposure to moisture. We also looked for ergonomic designs that encouraged better oral hygiene. Last, but not least, we looked for toothbrushes that were easy to recycle. Some of our picks are completely recyclable and all of them have fully compostable handles.
What You Need To Know About Bamboo Toothbrushes
Bamboo toothbrushes can be used just like your old plastic model, but there are two things you should know before you make the switch.
Storage
The first thing you should know is that your bamboo toothbrush will last a lot longer if you keep it clean and dry. Full sanitation isn't necessary, but you should rinse it thoroughly after each use because residual toothpaste can damage the bristles. Once you have rinsed it, simply pat it dry and allow it to dry flat before placing it in a cup or enclosed holder. The reason for this is that moisture can collect at the bottom of the enclosed toothbrush holders. That moisture can seep into the wooden handle and cause it to break down, or worse, it can cause mildew.
Expert Tip: Enclosed toothbrush holders, such as ceramic or plastic cups, can be home to all kinds of bacteria. If you do not want to switch to an open hanging toothbrush holder, be sure to clean your toothbrush holder regularly, especially after you switch to bamboo toothbrushes.
Disposal
The main benefit of bamboo toothbrushes is that they are compostable, but keep in mind that the bristles are not usually. You may have noticed that we mentioned the bristle material on each of our picks so that you would know which ones were fully recyclable and which were not. Unfortunately, making a natural fiber toothbrush bristle that can hold up to everyday use is very difficult. That is why many companies choose to continue to use nylon bristles. Just because they are nylon does not mean that they are not recyclable, but they are definitely not compostable. So what are you supposed to do when it is time to toss your old bamboo toothbrush? Simply remove the bristles and dispose of them appropriately, then you are free to toss the handle in with the compost. Most bamboo toothbrushes are designed to allow bristle removal with nothing more than a simple pair of pliers.
How to Choose The Best Bamboo Toothbrushes for You
Now we get to the personal stuff. How to choose the best bamboo toothbrush for you. Thankfully, choosing a bamboo toothbrush is just like choosing a plastic toothbrush with one exception, you should read the ingredient list.
Your Preferences
Chances are that you have been buying toothbrushes for years and you are already aware of the type you like. Do you prefer soft bristles with a large brush head? Maybe stiff bristles with a narrow brush head? Whatever style you like, there is sure to be a bamboo equivalent. One thing to keep in mind is that natural or semi-natural fiber bristles will probably feel different from the plastic ones you're used to. Many users say that they are softer, but others disagree, so it may take a little trial and error before you find the perfect one for you. Charcoal-infused or carbon treated bristles are likely to be stiffer, so if you have sensitive gums, you may want to be conscientious of that.
Read The Ingredient List
This comes back to what we mentioned about companies creating earth-friendly products in an earth-friendly way. In your search for your new toothbrush be sure to look for products that are 100% bamboo, not plastic composites made from bamboo fibers. These plastic composites are not compostable and some even contain harmful chemicals.
If you want your toothbrush to be completely recyclable, look for bristles that are made out of natural fibers or bio-nylon, which is recyclable. Also, remember to look for heat-treated wood because no wants to get splinters from brushing their teeth.
Bottom Line
Every time you switch from a single-use plastic product to a biodegradable product you are helping to protect the environment from further pollution. Switching to bamboo toothbrushes is one of the easiest and most inexpensive switches that you can make. This may seem like a tiny switch, but it can have a huge impact. Millions of plastic toothbrushes go into landfills every year and it is estimated that it could take up to 450 years for each one to break down. Over that 450 years, all that plastic is leaching harmful toxins into the soil and water.
Why not practice good oral hygiene and protect the environment at the same time? Finding the best bamboo toothbrush for you is simple. It's hard to go wrong with any of our top bamboo toothbrush options, but we recommend Isshah Bamboo Toothbrushes for its price point and quality materials. Compare all of your options before making a final decision, though, to make sure that you're choosing the right model for your circumstances.
Top 5 Best Bamboo Toothbrushes of 2021